Zeke is a character in Say Goodbye to America: Scatter
Zeke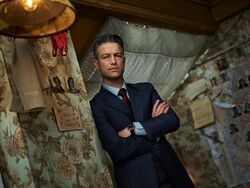 Last seen
A Plague On Your Houses
Death
Shot in the head by Dave O'Connor
(A Plague On Your Houses)
Portrayed by
Peter Scanavino
Pre-Apocalypse
Edit
Nothing is known about Zeke's life before the outbreak, except that he went to high school with George and two girls named Emma
Post-Apocalypse
Edit
At some point, Zeke made his way to the O'Connor Compound
Scatter Season 4
Edit
"Where We Were"
Edit
Zeke is first seen at the mess hall when George sits down and tells him that Ned O'Connor wants to get him to do a job involving the C4 Ozzy brought back. George reveals he wants Zeke to save some to kill Ned with, before switching the conversation to high school when Ned, Noah and Dave O'Connor sit down. He is later seen in the mechanic shop/garage when Ned, Noah, George and Will walk in. He explains how the detonator works and tells Ned he used a small amount to test, all while signaling to George that everything is set
"A Plague On Your Houses"
Edit
Zeke appears being beaten by Noah and interrogated by Darren and Dave into revealing why he planted a car bomb in Ned's car, which killed Asher Praedo and Hogan but only injured Ned, since his interrogators know he was the only one with access to the C4. He then reveals George wanted him to kill Ned, hoping he would at least be released and live, but he is instantly killed by Dave
Killed Victims
Edit
Killed By
Edit
After revealing why he planted the bomb in an attempt to kill Ned, Zeke is shot in the head by Dave
Appearances
Edit
Where We Were
A Plague On Your Houses
Community content is available under
CC-BY-SA
unless otherwise noted.