What We Become is a story by NAGILLUM.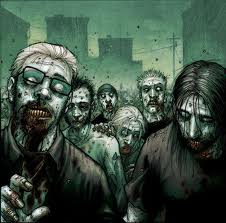 StorylineEdit
Adam Greene is a man who lost everything in the early days of the apocalypse. A month in, he finds a purpose to continue on when he comes across a group of caring survivors and tries to find a safe-haven while dealing with the many challenges of living in a world that consists of survival & responsibility. The apocalypse will shape who he is what he will become.
Story Begins In Early March 2012.
CharactersEdit
Arc 1: The Early DaysEdit
Arc 2: This Sorrowful LifeEdit
Arc 3: A New ChanceEdit
Issue #67
Issue #68
Issue #69
Issue #70
Issue #71
Issue #72
Issue #73
Issue #74
Issue #75
Issue #76
Issue #77
Issue #78
Issue #79
Issue #80
Issue #81
Issue #82
Issue #83
Issue #84
Issue #85
Issue #86
Issue #87
Issue #88
Issue #89
Issue #90
Arc 4: The Greater ThreatEdit
Contains Issues #91 - #120
Arc 5: A Larger WorldEdit
Contains Issues #121 to #150
Ghosts From Tomorrow (Jeff Greene) - Coming Soon.
More Character Specials Coming Soon.
What We Become has at least 150 issues planned.
What We Become is not set in the U.S.A like most zombie fictions, it is set in Canada.
What We Become was featured on the front page from May 11th 2013 to May 26th 2013.
Community content is available under
CC-BY-SA
unless otherwise noted.