Vass is a character in Say Goodbye to America: Scatter
Vass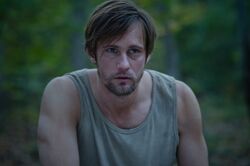 First seen
Arriving Somewhere but not Here
Portrayed by
Alexander Skarsgård
Pre-Apocalypse
Edit
Nothing is known about Vass's life before the outbreak, except that he was incarcerated for unknown reasons
Post-Apocalypse
Edit
At some point, Vass joined the Yard as a member of the prison community
Scatter Season 2
Edit
"Home Invasion"
Edit
Although uncredited, Vass confirms he was at the Attack on Apex
"Arriving Somewhere but not Here"
Edit
Vass is seen with Grease, Amin and Ocean discussing Fig and his failing health. Vass reveals he saw his friend get shot by Otis. He and Ocean later leave to see Max
"Gravity Eyelids"
Edit
Vass watches Gregory kill Marcellus
"Stars Die"
Edit
Vass listens to Rick Murphy's speech
Season 3
Edit
Vass is seen around the campfire arguing to stay at the Yard rather than leave. He votes to stay. He later leaves on a supply run with Rick, Brooks, Lottie, Grease, Max, Ryo Osaka and Adam McGill
Vass and Grease walk around the perimeter of the Lowe's while the rest search the area. Later, he asks Max if he found any dead inside
"Revelations"
Edit
Coming soon
Killed Victims
Edit
Numerous counts of zombies
Appearances
Edit
Season 2
Edit
Home Invasion (No Lines; uncredited)
Arriving Somewhere but not Here
Gravity Eyelids (No Lines)
Stars Die (No Lines)
Season 3
Edit
Vass's name is Swedish for Sharp
Community content is available under
CC-BY-SA
unless otherwise noted.