Train is a character in Say Goodbye to America: Scatter
Train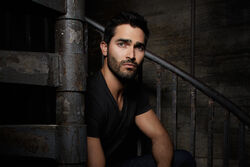 First seen
Veneno Para Las Hadas
Portrayed by
Tyler Hoechlin
Pre-Apocalypse
Edit
Nothing is known about Train's life before the outbreak
Post-Apocalypse
Edit
At some point, Train joined the Apex community as a member of the construction crew
Scatter Season 2
Edit
"Veneno Para Las Hadas"
Edit
Train is first seen with Scott Cleary, Ray and Cole in the construction area discussing Gavin Foxx and Sean Moreland. He is present when Warren Smith is bitten and subsequently amputated. He is later seen in Elizabeth Hill's office when Warren eventually dies and takes Lysander's place on guard duty. He is seen by Brooks and other members of the Yard scouting out Apex
"My Book of Regrets"
Edit
Train is seen on guard on the wall when he sees Maine Ryan crawling towards Apex. He and Horace bring Maine into Elizabeth to help him out. While there, Train is made to get Meredith down for help
"Home Invasion"
Edit
Train is seen when Bailey, Basil and Cole crash their car shooting and hitting Rick Murphy. During the rest of the attack on Apex, his gun jams and he is shot in the shoulder by Marcellus and later brought in to see Elizabeth.
"It Will Rain for a Million Years"
Edit
Train is seen keeping guard when Nils and Izabel shows up. He calls for Eddie Hedd, Jack West, Aaron Meyer and Taylor Burns. He tells Nils and Izabel when to stop their car.
"Arriving Somewhere but not Here"
Edit
Train is seen working with Scott, Ruben and Santiago Montoya
"Off the Map (The Day that Never Comes)"
Edit
Train is seen with Scott, Ray and Gavin digging four graves in the morning
Season 3
Edit
Killed Victims
Edit
Numerous counts of zombies
Appearances
Edit
Season 2
Edit
Veneno Para Las Hadas
My Book of Regrets
Home Invasion
It Will Rain for a Million Years
Arriving Somewhere but not Here (No Lines)
Off the Map (No Lines)
Season 3
Edit
Initially, Train was not supposed to have any lines until his third appearance