Tony King (Also known as Fig) is character in Say Goodbye to America: Scatter
Fig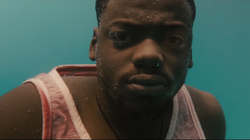 First seen
Veneno Para Las Hadas
Last seen
Arriving Somewhere but not Here
Death
Shot by Otis and bleeds out (Alive) Put down by Grease (Before Reanimation)
(Arriving Somewhere but not Here)
Portrayed by
Daniel Kaluuya
Pre-Apocalypse
Edit
Nothing is known about Fig's life before the outbreak, except that he was imprisoned
Post-Apocalypse
Edit
At some point, Fig was freed by Gregory and took up residence in the prison community in the Yard. He works as an apothecary
Scatter Season 2
Edit
"Veneno Para Las Hadas"
Edit
Fig is first seen with Lewis explaining how certain drugs were stolen from him. He is present when an undead Stephanie Key attacks and is put down by Lewis.
"My Book of Regrets"
Edit
Fig rides sidecar with Miguelito to Apex
"Home Invasion"
Edit
Fig takes part in the attack on Apex, during which he is shot by Otis in the shoulder and again by another gunman in the side. The bullet stays inside him. He later leaves with Izabel and Nils
"It Will Rain for a Million Years"
Edit
Fig is seen in Nils and Izabel's car on the way back to the Yard, but is moved to Arrowhead's truck when the other two decide to leave
"Trains"
Edit
Fig is seen with Jane Byron getting checked up on. Due to Jane's limited medical experience, Fig will be unable to remove the bullet lodged in his body. She says he will eventually die, which frightens him
"Arriving Somewhere but not Here"
Edit
Fig lays dying in his tent talking with Grease. The two discuss how there are only a few of them left from the prison that Gregory freed them from. He says his final wish is for Grease to be the one to put him down when the time comes. He is later seen being buried after he dies
Killed Victims
Edit
Numerous counts of zombies
Killed By
Edit
During the attack on Apex, Fig is shot in the stomach and leg by Otis, which eventually leads to him bleeding out
Grease (Before Reanimation) Edit
After Fig bleeds out, Grease puts him down
Appearances
Edit
Season 2
Edit
Veneno Para Las Hadas
My Book of Regrets
Home Invasion (No Lines)
It Will Rain for a Million Years (No Lines)
Trains
Arriving Somewhere but not Here