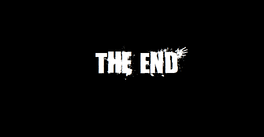 The End is a story by Dixonlovessquirrels with original and non-original characters.
Daniel was the owner of a very successful insurance company, but when the dead began walking, he changed into a whole new person. Literally.
Season 1
Season 2

Season 3: The Final Season
Characters
Edit
Trivia (Spoilers)
Edit
As revealed in the finale of Season 1, this story serves as a prequel to Telltale Game's The Walking Dead, focusing on one of the antagonists, Danny St. John.
Originally, this story was only to last 1 season, 6 episodes, but was later expanded to develop Danny's character.
So far, 6 characters have appeared from The Walking Dead universe, these being; Danny St. John, Andy St. John, Brenda St. John , terry St. John, Mac, Jolene and Jeff Grimes, who is mentioned in the comic books to be Rick Grimes brother. The Save-Lot Bandits also play a major role in the story.

The main survivors from the game appear in the finale.

A spin-off, After The End, ties up all of the loose ends for the series.
Another spin-off, Sniper, written by WalkerMage102 is currently in development.
Spin-offs
Edit
Community content is available under
CC-BY-SA
unless otherwise noted.