Taylor Burns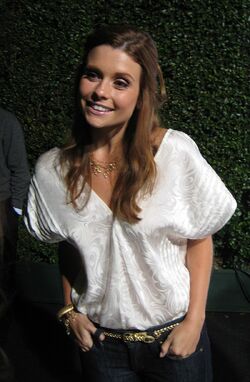 Portrayed by
Joanna Garcia
Taylor Burns is a character in Say Goodbye to America: Scatter
Pre-Apocalypse
Edit
Nothing is known about Taylor's life before the outbreak.  It is possible that she had some training in nursing or physical therapy
Post-Apocalypse
Edit
At some point, Taylor joined the Apex community
Scatter Season 1
Edit
Taylor first appears among the rescue crew to save Niklas.  She and Eric Dugan take first watch upon their arrival at the Target.  
Taylor appears talking with Leo about Dexter Hubbard and Jason.  She takes Dex by the hand and leads him back to rest and check for permanent damage.  She later appears after the Massacre at the Target, having stayed inside with Dex.  She is given the wounded Doug Santos and Gavin Foxx to check up on.  She later tells Leo that he needs to see Gavin's unconscious body to get his approval on her patching him up
Taylor walks out after the Massacre with Leo, Aaron and Niklas where the four put down the bodies to keep them from reanimating. She is uncomfortable putting down Tim, but ultimately does so
Season 2
Edit
"The Same Asylum as Before"
Edit
Taylor appears in Meredith's house with Elizabeth Hill, Annie McGovern, Oliver, Doug, Kendall Standish, Hannah Johnson, Jack West, Miranda, Olivia Graham and Dex eating cheese and crackers and drinking wine. She says her spirit animal is a turtle
"My Book of Regrets"
Edit
Taylor is seen at Annie McGovern's door and is greeted by a shirtless Todd Andrews, which she comments about. She lets herself into Annie's room
"Home Invasion"
Edit
Taylor is seen helping wounded in Elizabeth's office
"It Will Rain for a Million Years"
Edit
Taylor is seen with Eddie Hedd, Jack, Miranda and Evan Curtis when Izabel and Nils arrive at Apex. She pats down Izabel and brings her in to see Jenny Hanson
"Trains"
Edit
Taylor is seen walking with Nils and Izabel and asks if the two are a couple because it would help with housing
"Stars Die"
Edit
Taylor sits with Todd, Annie, Dex, Eli Wilson and Oliver at night. She reveals, albeit aggressively, that she and Dex are in a "no strings attached" relationship. She later watches Annie go outside to shoo away a cat
"Off the Map (The Day that Never Comes)"
Edit
Taylor is seen searching with Todd for Annie, trying to calm him down. She later appears with Otis after he is bitten.
Season 3
Edit
Coming soon
Killed Victims
Edit
Tim (Before Reanimation)
Numerous counts of zombies
Appearances
Edit
Season 1
Edit
Fears
Gone (Mentioned Only)
Pain
Death
Season 2
Edit
The Same Asylum as Before
My Book of Regrets
Home Invasion (No Lines)
It Will Rain for a Million Years (No Lines)
Trains
Stars Die
Off the Map
Season 3
Edit
Community content is available under
CC-BY-SA
unless otherwise noted.