Tara Friedman is a character in Say Goodbye to America: Scatter
Tara Freidman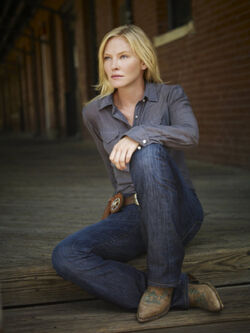 Last seen
Scatter (Alive) Alone (Flashback)
Death
Torn apart by walkers
Portrayed by
Kelli Giddish
Pre-Apocalypse
Edit
Nothing is known about Tara's life before the outbreak
Post-Apocalypse
Edit
At some point, Tara and Harold Bach made their way to Todd Andrew's camp.
"Scatter"
Edit
Tara is first seen worried about Todd and Luke O'Hara and the supplies they may or may not return with. She finds Harold's corpse first and alerts the others to it. She is aggressive in finding out who killed him and after finding out it was Marlton McClain and Harold his a bite, she is unable to kill Harold's killer. She later goes to the cul-de-sac with the others and keeps watch. She is later seen being torn apart alive as the others try to escape
Season 3
Edit
Tara appears with Harold when the pair enter Todd's camp. After a short standoff, the pair are allowed into the camp with little hostility
Killed Victims
Edit
Numerous counts of zombies
Killed By
Edit
While keeping watch on the house in the cul-de-sac, Tara is overpowered and torn apart by walkers that make their way to the group
Appearances
Edit
Season 1
Edit
Season 3
Edit
Community content is available under
CC-BY-SA
unless otherwise noted.