Shoshana Adams is a character in Say Goodbye to America: Scatter
Shoshana Adams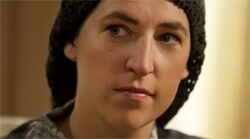 First seen
Gravity Eyelids
Last seen
Gravity Eyelids
Death
Shot in the head by Judas
Relations
Larry Kotter (biological father)
Unnamed mother
Rajesh (adoptive father; deceased)
Pre-Apocalypse
Edit
Shoshana was raised Jewish by a Jewish mother and an adoptive Hindi father. She attended Columbia University and eventually met her biological father, Larry Kotter, whom she was able to visit sporadically before the outbreak
Post-Apocalypse
Edit
At some point, Shoshana became the leader of the Waterfront community
Scatter Season 2
Edit
"Gravity Eyelids"
Edit
Shoshana is first seen looking at a Snow Globe and remembering her past through pictures. She is introduced to Phillip James, Leo Henderson and other members of the Apex group when they arrive. She decides to think on the topic of trade once Jackson Allen brings it up to her. She instead has to leave to see Stan and Marla in the kitchens and has Chester Navarro show the Apex group around. She goes to the kitchen only to be disappointed to find Stan and Martha called her over to talk about meatloaf instead of anything productive. She leaves disappointed. She is later seen in her office with Sean and Reina before the latter leaves to grab Chester. She discusses the idea of trade with Sean when Ryan Hart and Cal burst into her office and kill Sean. She talks with Ryan, who now goes by Judas, about the Midnight Rebellion before saying Ryan is undeserving of Judas's name. Judas tells her she is right about him before he shoots her in the head
Killed Victims
Edit
Numerous counts of zombies
Killed By
Edit
During the Midnight Rebellion, Ryan Hart (now going by Judas) shoots Shoshana in the head
Appearances
Edit
Season 2
Edit
Shoshana's death was planned back when Chester Navarro first appeared in Scatter.

It was also planned that she would only appear in one episode. This would create this big build up for Shoshana as a character only for her to die within the same episode
Community content is available under
CC-BY-SA
unless otherwise noted.