Santiago Montoya is a character in Say Goodbye to America: Scatter
Santiago Montoya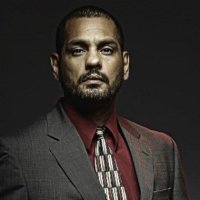 Portrayed by
Santiago Cirilo
Pre-Apocalypse
Edit
Nothing is known about Santiago's life before the outbreak
Post-Apocalypse
Edit
At some point, Santiago joined the Apex community
Scatter Season 1
Edit
Although not credited, Santiago appears throughout Season 1 in the background, such as Jenny's party in "Others"
Season 2
Edit
"Home Invasion"
Edit
Santiago appears with Dimitri, Nathan and Meredith firing on the Yard soldiers. He is later joined by Sean Moreland, Gavin Foxx, Leo, Aaron Meyer and Eddie Hedd. He is present when Gregory Ames shoots and kills Meredith and flees.
"It Will Rain for a Million Years"
Edit
Santiago appears in Jenny Hanson's house during her meeting. He is seen opening the door for Leo Henderson, Ruben Eastview and Ray.
"Arriving Somewhere but not Here"
Edit
Santiago is seen with the rest of the construction crew working on the half-built church. He loses his grip on the ladder and is left dangling before Sean and Gavin are able to help him back down. Because of this rush, he urges the rest to get back to work
Season 3
Edit
Coming soon
Killed Victims
Edit
Numerous counts of zombies
Appearances
Edit
Season 2
Edit
Home Invasion
It Will Rain for a Million Years (No Lines)
Arriving Somewhere but not Here
Season 3
Edit