Ryan "Fish" West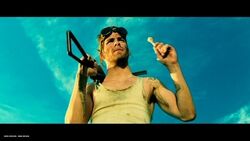 Relations
Tim West (Brother, deceased) Jack West (Brother)
Ryan "Fish" West is a character in Say Goodbye to America: Scatter
Pre-Apocalypse
Edit
Nothing is known of Fish's life before the apocalypse
Post-Apocalypse
Edit
At some point in the apocalypse, he joined the Apex community with his brothers
As the group from the mall runs away from incoming walkers, Fish helps carry Matt's unconscious body to the truck. After the crew arrives in Apex, Fish tells Todd that his father gave him the middle name after the Barney Miller character.  
"Others"
Edit
Fish appears at Jenny's party talking with Todd, Eric and his brothers about new living arrangements, before making a comment about Hannah's attractiveness.
Although he does not appear, it is mentioned that Fish likes to get high with Jason
Fish appears when he and his brother Tim arrive at Todd's house to bring him to the service for Judy. He is seen immediately after talking to Jenny about the movie night the next Friday, and the choices of movies they have
Fish appears with Todd and Phillip saying that his brother, Timothy, is more helpful in the upcoming mission than the others might believe
Season 2
Edit
"The Same Asylum as Before"
Edit
Fish is among those who returns to the mall where he first met Todd and Philip. He stays behind with Garrett Smith to help load the U-Haul. He helps his brother bring Eli into the truck
"Wet Ribbon"
Edit
Fish is with Todd, Timothy and Phillip when Gregory and his group hold them at gunpoint. While distracted, he stabs Lulu in the stomach and is present when Timothy is shot in the gut by Spencer. Fish and Phillip sit in the U-Haul on the drive home with a dying Timothy, but Fish ultimately is forced to put his brother down before reanimation
Fish is seen in the back of the U-Haul with his brother before stealing it and driving off. After searching forever, he is found by Garrett, Rick Conrad, Eddie Hedd and Basil. He is burying his brother as a coping mechanism. Garrett decides to stay with him after he says he will not return yet
"It Will Rain for a Million Years"
Edit
Fish is seen riding down the road with Garrett, discussing when they'll return home, if ever
Season 3
Edit
Fish is seen with Garrett and Shania in a prison cell in the O'Connor Compound, listening to the plan in the next cell over
Coming soon
Killed Victims
Edit
Timothy West (Before Reanimation)
Numerous counts of zombies
Appearances
Edit
Season 1
Edit
Season 2
Edit
The Same Asylum as Before
Wet Ribbon
Once
It Will Rain for a Million Years
Season 3
Edit
Fish is the first character to have a nickname in the series
Fish disappeared in Season 2 Episode 7 before reappearing in Season 3 Episode 8
Community content is available under
CC-BY-SA
unless otherwise noted.