Rick Conrad is a character in Say Goodbye to America: Scatter
Rick Conrad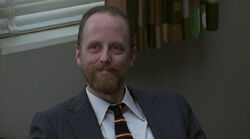 Death
Shot in the chest by an arrow (Alive) Put down by Jasper Bernard (before reanimation)
Relations
Piper Conrad (daughter; deceased)
Chuck Conrad (son; deceased)
Judy Conrad (ex-wife; deceased)
Pre-Apocalypse
Edit
Nothing is known about Rick's life before the outbreak, except he had two kids and an ex-wife
Post-Apocalypse
Edit
At some point, Rick joined the Apex community
Scatter Season 1
Edit
Rick is seen playing cribbage with his kids Piper and Chuck when Jenny and Leo arrive at the door to tell him Judy had died. He goes inside to tell his kids
Season 2
Edit
Rick appears with Eddie Hedd and Basil when Garrett shows up. The four chase down Fish West when he steals the U-Haul out of depression. He, along with Basil and Eddie, leave the other two behind in the night
"Veneno Para Las Hadas"
Edit
Rick is seen talking with Logan Schiff about Chuck. He agrees to help Logan teach Chuck to shoot
"My Book of Regrets"
Edit
Rick is seen walking back with Logan and Chuck after the latter learns to shoot
"Home Invasion"
Edit
Rick is seen running towards the burning schoolhouse after learning his son is inside, burning alive
"Arriving Somewhere but not Here"
Edit
After tucking in Piper, Rick sees Logan in the church. After learning the latter let his son die, Rick strangles and beats Logan to death
"Stars Die"
Edit
Rick walks out of the church and comes across Lysander on a nightly run. The two talk for a bit before Rick heads to his house
"Off the Map (The Day that Never Comes)"
Edit
Rick is seen making toast for him and Piper
Season 3
Edit
"Revelations"
Edit
Rick appears with the other members of Apex inside Jenny's house
Rick appears with Evan Curtis, Jasper Bernard and Harper asking Jenny about the whereabouts of Eli Wilson and Octavio Arévalo. Jenny gives the four a map and has them look for the pair
Rick, along with the other three, arrive at Eli and Octavio's car, which Evan figures to be a border of some kind. He is then shot in the chest by Samantha, as four members of the O'Connor Compound attack the other three. When Harris Moore walks up to shoot Evan, Rick shoots the former three times and kills him before passing out. He is put down by Jasper
Killed Victims
Edit
Killed By
Edit
Samantha (Alive)
Jasper Bernard (before reanimation)

When the group from the O'Connor Compound attacks Rick, Jasper, Evan and Harper at the border, Rick is shot in the chest by Samantha's arrow before dying. He is put down by Jasper so he does not turn
Appearances
Edit
Season 1
Edit
Season 2
Edit
Once
Veneno Para Las Hadas
My Book of Regrets
Home Invasion
Arriving Somewhere but not Here
Stars Die
Off the Map (No Lines)
Season 3
Edit
Revelations (No Lines)
Me?
Food
Community content is available under
CC-BY-SA
unless otherwise noted.