Ray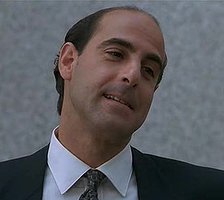 Portrayed by
Stanley Tucci

Ray is a character in Say Goodbye To America: Scatter
Pre-Apocalypse
Edit
Nothing is known about Ray's life before the outbreak
Post-Apocalypse
Edit
Early on, Ray joined the Apex community and became the leader of the Construction Crew
Scatter Season 1
Edit
Ray first appears with Warren Smith, Paul and Tim after Scott calls him up on the walkie talkie and asks for the three men's help.  Ray is not willing to give them up and tells Scott to work his problems himself.  Afterwards, Warren, Paul and Tim leave the Construction Crew, with Ray telling Warren not to return for at least one week.
Ray is present during the service for Judy held in the church.  He is the first person to approach Jenny Hanson afterwards and becomes angry with her for sending Warren, Paul and Tim without his permission.  The two verbally spar over who the true leader is with Ray eventually leaving in a huff
Ray appears when the Target group return. He is deeply saddened by the news of Tim's death and hugs Warren
Season 2
Edit
"Wet Ribbon"
Edit
Ray appears at the construction site when Sean Moreland and Gavin Foxx are introduced to the group. He calls Ruben Eastview, Warren and Scott into his tent because he is not initially happy with Sean or Gavin being in Apex
Ray is seen yelling at Basil for skipping work the day before to find Fish West
"Veneno Para Las Hadas"
Edit
Ray is at the construction site talking to Scott and Cole when Warren is bitten and subsequently amputated
"My Book of Regrets"
Edit
Ray is seen at the construction site after Warren's death. He spends most of the working day sitting in a chair and staring into space. Out of grief, he stabs two walkers to death repeatedly. He is later seen in front of the construction site after giving a speech about Warren and asking for stories before leaving for the day
"Home Invasion"
Edit
Ray, along with the rest of the construction crew, arrive in the latter half of the attack on Apex, during which he shoots and kills Alexander. He, Ruben and Leo later run out to check on the car that had flipped during the battle. The three then come across Matt Graham, Sebastián Bernal, Octavio Arévalo and Evan Curtis
Killed Victims
Edit
Numerous counts of zombies
Appearances
Edit
Season 1
Edit
Season 2
Edit
Wet Ribbon
Once
Veneno Para Las Hadas
My Book of Regrets
Home Invasion
It Will Rain for a Million Years
Community content is available under
CC-BY-SA
unless otherwise noted.