Paul is a character in Say Goodbye to America: Scatter
Paul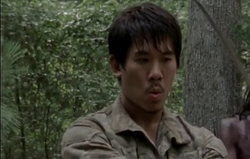 Death
Shot and killed by an Unknown Gunman
Portrayed by
Lawrence Kao
Pre-Apocalypse
Edit
Nothing is known about Paul's life before the outbreak
Post-Apocalypse
Edit
At some point, Paul joined the Apex community as a member of the construction crew
Scatter Season 1
Edit
Paul is first seen with Tim and Warren Smith talking to Ray about leaving to join Scott Cleary at the Target.
Paul appears with Warren and Tim after arriving at the Target talking to Phillip James, Leo, Otis, Dimitri Vanderbilt and Eric Dugan.
Paul is first seen arguing with Tim, Warren and Aaron Meyer about fortifications for the Target. He leaves to rescue Niklas with Leo, Aaron, Phillip, Dimitri, Tess, Meredith, Nathan and Gary Taylor. After witnessing Gary getting shot in the back, Paul turns his attention to a wounded Stefan and shoots him in the head. He later arrives back after the Massacre at the Target
Paul is seen leaving the Target with the others
Season 2
Edit
"Wet Ribbon"
Edit
Paul is with the others at the construction site when he and Doug Santos are introduced to Gavin Foxx
Paul is seen working at the construction site talking to Devin Nelson
"My Book of Regrets"
Edit
Paul is present at the construction site when Ray kills two walkers out of grief. He is later present giving a eulogy about Warren Smith after Ray's speech
"Home Invasion"
Edit
Paul arrives back at Apex during the attack, during which he is shot and killed by an unknown gunman
Killed Victims
Edit
Numerous counts of zombies
Killed By
Edit
Unknown Gunman
Edit
During the attack on Apex, Paul is shot and killed by an unknown gunman
Appearances
Edit
Season 1
Edit
Season 2
Edit
Wet Ribbon
Once
My Book Of Regrets
Home Invasion
With Paul's death, all three (Himself, Warren Smith and Tim) construction characters introduced on the site in Fears (Season 1 Episode 6) are deceased
Community content is available under
CC-BY-SA
unless otherwise noted.