Owen is a character in Say Goodbye to America: Scatter
Owen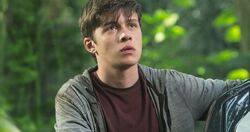 First seen
Veneno Para Las Hadas
Death
Shot in the back by Brooks (Alive) Put down by Miranda (Before Reanimation)
Portrayed by
Nick Robinson
Pre-Apocalypse
Edit
Nothing is known about Owen's life before the outbreak
Post-Apocalypse
Edit
At some point, Owen joined the Apex community as a member of the construction crew
Scatter Season 2
Edit
"Veneno Para Las Hadas"
Edit
Owen is first seen with Basil measuring and cutting wood while the latter is having issues working. He is present when Warren Smith is bitten and helps him return home. He is later seen with Jenny Hanson, Otis, Olivia Graham, Ruben Eastview, Ray, Train and Bailey discussing Warren's situation
"My Book of Regrets"
Edit
Owen is seen in the construction crew when Ray puts down a walker out of anger. He takes a gun and keeps watch at another end. He is later seen during Ray's speech before going to work
"Home Invasion"
Edit
Owen is seen riding into Apex with Scott Cleary, Paul, Doug Santos, Sean Moreland, Train and Gavin Foxx. During the Attack on Apex, he is shot and injured by Brooks, but dies in Elizabeth Hill's office. He is put down by Miranda
Killed Victims
Edit
Numerous counts of zombies
Killed By
Edit
During the attack on Apex, Brooks shoots Owen in the back, which ultimately kills him
After Owen dies on the operating table, Elizabeth hands Miranda a knife to put down Owen
Appearances
Edit
Season 2
Edit
Veneno Para Las Hadas
My Book of Regrets (No Lines)
Home Invasion