Oliver is a character in Say Goodbye to America: Scatter
Oliver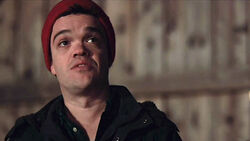 Portrayed by
Jordan Prentice
Pre-Apocalypse
Edit
Nothing is known about Oliver's life before the outbreak
Post-Apocalypse
Edit
At some point, Oliver joined the Apex community
Scatter Season 1
Edit
"Others"
Edit
Although not credited, it is confirmed Oliver attends Jenny Hanson's party
Oliver first appears at Jenny's doorway telling her Leo returned
"The Same Asylum as Before"
Edit
Oliver appears in Meredith's house with Elizabeth Hill, Olivia Graham, Dex Hubbard, Kendall Standish, Jack West, Doug Santos, Taylor Burns, Miranda, Hannah Johnson and Annie McGovern discussing spirit animals over wine. He is told his animal would be a badger
Oliver is seen in Apex talking with Dex when Sean Moreland and Gavin Foxx walk by on their way to work. He is present when Todd Andrews and the mall group return
"My Book of Regrets"
Edit
Oliver is seen with in his house shaving talking to Eli when Gregory Ames and the Yard arrive at Apex. Oliver runs outside with shaving cream on his face wearing a wife-beater and boxers. He is able to grab a weapon by the time the attack on Apex begins
"Home Invasion"
Edit
Oliver is present during the attack on Apex, during which he kills an attacking Yard Soldier with a knife
"It Will Rain for a Million Years
Edit
Oliver is seen in Jenny's house attending her meeting. He is the first to leave and looks at the dark clouds in the sky and feels the rain as he leaves
"Trains"
Edit
Oliver is seen in his house when Eli walks in. He introduces Nils and Izabel to Eli, since the two move into the same house
"Arriving Somewhere but not Here"
Edit
Oliver and Eli are seen talking with Nils and Izabel about the Yard. He later helps Izabel carry Nils to Elizabeth after he is stabbed
"Stars Die"
Edit
Oliver is seen with Eli, Dex and Taylor in Todd Andrews and Annie's at night
"Off the Map (The Day that Never Comes)"
Edit
Oliver and Eli look upon Logan Schiff's dead body, where he dry heaves
Season 3
Edit
Coming soon
Killed Victims
Edit
Numerous counts of zombies
Appearances
Edit
Season 1
Edit
Others (Uncredited)
Death
Season 2
Edit
The Same Asylum as Before
Once (No Lines)
My Book of Regrets
Home Invasion (No Lines)
It Will Rain for a Million Years (No Lines)
Trains
Arriving Somewhere but not Here
Stars Die
Off the Map (No Lines)
Season 3
Edit
Oliver is the first little person in Scatter