Noam is a character in Say Goodbye to America: Scatter
Noam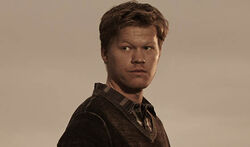 Death
Shot in the head by Evan Curtis
Portrayed by
Jesse Plemons
Pre-Apocalypse
Edit
Nothing is known about Noam's life before the outbreak
Post-Apocalypse
Edit
Coming soon
Scatter Season 3
Edit
Noam is first seen with Copper, Noah, George, Clove and Samantha when Ned O'Connor, Dave O'Connor and Harris Moore arrive and tell the group of a vehicle heading their way. He later appears with Copper taking Octavio Arévalo and Eli Wilson's guns, and witnesses Harris kill the former. He later stays behind with Harris, Clove and Samantha
Noam appears with Harris, Clove and Samantha firing at Rick Conrad, Evan Curtis, Jasper Bernard and Harper. In the aftermath, he is taken hostage by Jasper and Evan
"... Hello...?"
Edit
After not telling Evan and Jasper enough information and constantly crying, Evan decides he has had enough of him and shoots him in the head
Killed Victims
Edit
Numerous counts of zombies
Killed By
Edit
After not revealing any information, Noam is shot in the head by Evan
Appearances
Edit
Season 3
Edit
Community content is available under
CC-BY-SA
unless otherwise noted.