Miles is a character in Say Goodbye to America: Scatter
Miles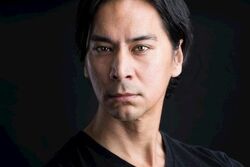 First seen
The Same Asylum as Before
Death
Shot in the leg and bled out
Portrayed by
Kalani Queypo
Pre-Apocalypse
Edit
Nothing is known about Miles's life before the outbreak
Post-Apocalypse
Edit
At some point, Miles joined Gregory's group and became a member of the 'B' Squad
Scatter Season 2
Edit
"The Same Asylum as Before"
Edit
Miles arrives with the others outside the mall after riding with Julian, Kenneth, Spencer and Lulu. Once in the mall, he joins Izabel and Rick Murphy in the Abercrombie & Fitch. He joins the rest of the 'B; squad to investigate screams
"Wet Ribbon"
Edit
Miles joins the rest of the 'B' Squad with Gregory to investigate screams from earlier. He witnesses Spencer shoot Timothy West in the gut, which leads to the latter's death. While the group runs away, they exchange gunfire with Nathan, Dimitri, Aaron and Garrett, which leads to Miles getting shot in the leg and left behind. While he drags himself along the floor, he struggles to keep away from walkers nearing him. After escaping the mall, he crawls even slower before passing out and dying from blood loss
Killed Victims
Edit
Numerous counts of zombies
Killed By
Edit
While exchanging gunfire, Miles is shot in the leg and dies from blood loss
Appearances
Edit
The Same Asylum as Before
Wet Ribbon
Community content is available under
CC-BY-SA
unless otherwise noted.