Miguel Santos (Also known as Miguelito) is a character and a secondary antagonist in the second season of Say Goodbye to America: Scatter
Miguelito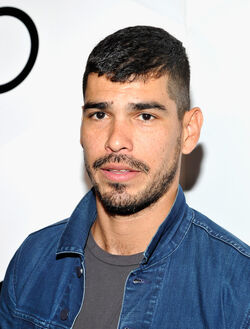 First seen
Veneno Para Las Hadas
Death
Devoured by walkers
Portrayed by
Raúl Castillo
Pre-Apocalypse
Edit
Nothing is known about Miguelito's life before the outbreak, except that he was imprisoned
Post-Apocalypse
Edit
At some point, he was freed by Gregory and moved to the prison community in the Yard
Scatter Season 2
Edit
"Veneno Para Las Hadas"
Edit
Miguelito is first seen with Virginia advising her to check on Stephanie Key. He is present the undead Stephanie attacks and is put down by Lewis
"My Book of Regrets"
Edit
Miguelito is seen with Gregory and Fig when Fig brings up riding in Miguelito's motorcycle sidecar to Apex
"Home Invasion"
Edit
Migueltio is given orders by Gregory to grenade the community. He hits the schoolhouse and burns the building down, killing Chuck Conrad and Bradley. He is later seen by Sylvester and Devin Nelson and Scott Cleary being devoured by walkers
Killed Victims
Edit
Numerous counts of zombies
Killed By
Edit
After being surrounded by the undead, Miguelito is seen being devoured alive
Appearances
Edit
Season 2
Edit
Veneno Para Las Hadas
My Book of Regrets
Home Invasion
Community content is available under
CC-BY-SA
unless otherwise noted.