Mick Karn is a character in Say Goodbye to America: Scatter
Mick Karn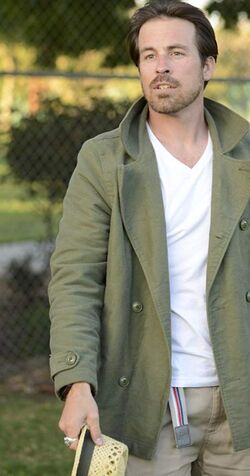 First seen
A Plague On Your Houses
Death
Shot in the back of the head by Jack West
Pre-Apocalypse
Edit
Nothing is known about Mick's life before the outbreak
Post-Apocalypse
Edit
At some point, Mick joined the O'Connor Compound, where he took care of the census of the people living on the compound
Scatter Season 4
Edit
"A Plague On Your Houses"
Edit
Mick first appears during the assault on the Apex community, where his is shot by Scott Cleary in the leg. He tells Scott his name but will not answer any more questions until the fighting is over. He is then handed off to Eli Wilson and Quinn Kane and taken to Elizabeth Hill
"The Mask"
Edit
Mick appears in the Apex infirmary zip-tied to a chair and surrounded by Scott, Quinn, Eli, Brooks and Ryo Osaka. He reveals part of what the plan was and how Ned O'Connor was supposed to execute Asher Praedo in front of the survivors. He is initially opposed to answering questions but gives in with the promise of fresh air. He is later placed in Jenny Hanson's main room in front of the other Apex survivors. He answers questions on the number of prisoner buildings, how the compound conducts their killing and consumption of humans, and how many people the compound has, although he informs the group of the large number of guards at the border and how they have slowly begun training the biters by wearing their skin. He informs Apex of the dangers of messing with Ned, Noah, Copper and George, so dubbed Ned's inner circle. After Noah's aggressive display of the dead armada members, Mick is held at gunpoint by Sean Moreland for the death of Gavin Foxx, but talked down from killing him. Immediately afterwards, he is shot in the back of the head by Jack West because of the latter's brother's death
Killed Victims
Edit
Numerous counts of zombies
Killed By
Edit
Jack West

After Noah gruesomely shows the Apex survivors Fish West's removed face, Jack shoots Mick in the back of the head in retaliation
Appearances
Edit
A Plague On Your Houses
The Mask
Mick's character is named for the bassist for the British progressive rock band Japan
Although he is credited as a Co-Star in "A Plague on Your Houses", Mick is credited under Also Starring in "The Mask"
Community content is available under
CC-BY-SA
unless otherwise noted.