Michael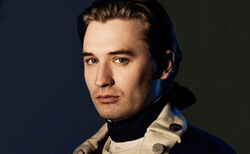 Death
Bitten by and undead Maxwell, Put down by Spencer
Portrayed by
Seth Numrich
Michael is a character in Say Goodbye to America: Scatter
Pre-Apocalypse
Edit
Nothing is known about Michael's life before the outbreak
Post-Apocalypse
Edit
At some point, Michael joined Gregory's group.
Scatter Season 1
Edit
Michael first appears during the Manhunt for Leo, during which he is told to stay put with Spencer.  After tossing him some gum, Spencer leaves Michael alone in the woods.  Throughout his guard duty, he sings Fly Like and Eagle by Steve Miller Band.  During his time on guard, he accidentally shoots and kills Patrick Henderson with several bullets out of fear.  Realising his mistake, he puts Patrick down and runs away.  While he is running, he comes across an undead Maxwell, where he is bitten and partially devoured until Spencer shows up to put Michael down
Killed Victims
Edit
Killed By
Edit
As Michael is running away, and undead Maxwell tears into his flesh and partially devours him
Rather than let Michael turn, Spencer shoots him in the head
Appearances
Edit
Community content is available under
CC-BY-SA
unless otherwise noted.