Megan is a character in Say Goodbye to America: Scatter
Megan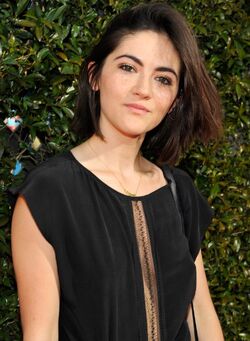 Age
Late Teens to Early 20s
Portrayed by
Isabelle Fuhrman
Pre-Apocalypse
Edit
Nothing is known about Megan's life before the outbreak
Post-Apocalypse
Edit
At some point, Megan made her way to the O'Connor Compound, winding up as a prisoner. It is revealed she, along with several others, were initially part of the Soapstone Trail Military Base, and escaped.
Scatter Season 3
Edit
Megan is first seen when Eli Wilson reveals they are all eating human meat and later appears when Victor Montrose and Peanut agree to help the prisoners escape
Megan appears asking Eli what Apex is before they leave. During their escape, she and Jason Herr are shot by Julia Sabre. While the other escapees are fighting off the dead to make their way to Apex, she stays in the vehicle, as her breath had slowed
Megan appears in the flashback story told by Jason to the Apex survivors about their time at the Soapstone Trail Military Base. She first appears when Captain Lucas McDermott informs the survivors about the death of Major Stuart Montgomery. She is part of Jason's plan to escape from the base, and is set to gather food with Martita. While she, Martita and Quinn Kane grab food, they are stopped by PFC Gunderson, and in the ensuing struggle, Gunderson shoots Martita and Quinn kills Gunderson in response. She escapes with the others and is stopped at a border heading towards the O'Connor Compound
"Outrageous"
Edit
Megan appears with the other survivors, having found a place in Apex to sleep for the night
Season 4
Edit
"On the Road"
Edit
Megan is seen riding over to the Wiggins outpost with Phillip James, Horatio Whittaker and Shania. When the survivors from the O'Connor Compound use the dead to attack the outpost, Megan is cut along the stomach and tackled, but she is able to reveal the face of her attacker: Anna Cook, with whom she had escaped from Soapstone
"No Surprises"
Edit
Megan tries to get Anna to drop the knife and let her go, but Anna is unfazed. Megan is then stabbed repeatedly to death
Killed Victims
Edit
Numerous counts of zombies
Killed By
Edit
Anna Cook

As Megan tries to reason with Anna, she is stabbed in the chest repeatedly until she dies
Appearances
Edit
Season 3
Edit
Torn (No Lines; Uncredited)
Light
Tusk
Outrageous
Season 4
Edit
Community content is available under
CC-BY-SA
unless otherwise noted.