Marlton McClain is a character in Say Goodbye to America: Scatter
Marlton McClain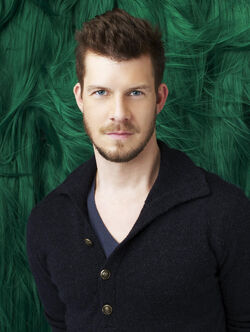 Last seen
Scatter (Alive) Alone (Flashback)
Death
Shot in the head by Rain Wong
Pre-Apocalypse
Edit
Nothing is known about Marlton's life before the outbreak
Post-Apocalypse
Edit
At some point, Marlton joined a camp with Todd Andrews
"Scatter"
Edit
Marlton is first seen waiting for Todd and Luke O'Hara to bring supplies. He later sees a hidden bite on Harold Bach's arm and, fearing for his safety, kills him in the night. After much discussion going nowhere, Marlton keep watch at night and feeds a baby deer before being bitten on the face by a walker and pleading for death after revealing he killed Harold. After Tara Friedman denies him a quick death, he is killed by Rain Wong when she shoots him in the head
Season 3
Edit
Marlton is seen in Todd's flashback keeping watch over the group while the others play cards. He holds both Tara and Harold at gunpoint when the pair enter the camp. He is the only one not trusting of them after they are allowed to be part of the group
Killed Victims
Edit
Numerous counts of zombies
Killed By
Edit
After being bitten and pleading to be put down, he is shot in the head by Rain Wong
Appearances
Edit
Season 1
Edit
Season 3
Edit
Community content is available under
CC-BY-SA
unless otherwise noted.