Margot is a character in Say Goodbye to America: Scatter
Margot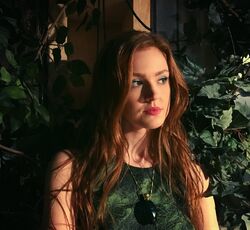 First seen
The Same Asylum as Before
Death
Killed in car crash by Spencer (alive) Put down by Nils (Zombified)
Pre-Apocalypse
Edit
Nothing is known about Margot's life before the outbreak
Post-Apocalypse
Edit
At some point, Margot joined the Yard as a member of the 'B' squad
Scatter Season 2
Edit
"The Same Asylum as Before"
Edit
Margot arrives at the mall after riding with Gregory Ames, Rick Murphy, Lottie, Brooks and Cosmo Murphy. She enters the mall and heads into the jewelry store with Gregory, Kenneth and Nils when the four see Matt Graham and Bentley from Apex. She watches Gregory kill Bentley, but Kenneth fail to kill Matt. She leaves with Gregory and Nils to let Kenneth kill Matt. She later leaves with the other 'B' squad members after they hear Timothy West's screams.
"Wet Ribbon"
Edit
Margot arrives with the others and holds the Apex survivors at gunpoint. She watches Fish West kill Lulu and Spencer kill Timothy West. She leaves with the others when walkers swarm the mall, leaving Miles behind
While driving away from the mall, Spencer swerves a horde of zombies and overturns the car several times. Margot is badly injured and bleeding but decides to keep walking after being left behind. She eventually dies in the night and turns. She attacks Izabel, but is put down by Nils
Killed Victims
Edit
Numerous counts of zombies
Killed By
Edit
Trying to avoid a horde, Spencer flips the car accidentally, injuring Margot badly to the point where she dies later in the night
After a zombified Margot attacks Izabel, Nils puts the former down
Appearances
Edit
The Same Asylum as Before
Wet Ribbon
Once
Community content is available under
CC-BY-SA
unless otherwise noted.