Lysander is a character in Say Goodbye to America: Scatter
Lysander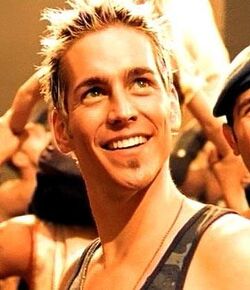 First seen
Veneno Para Las Hadas
Portrayed by
Tony Vincent
Pre-Apocalypse
Edit
Nothing is known about Lysander's life before the outbreak
Post-Apocalypse
Edit
At some point, Lysander joined the Apex community as a guard
Scatter Season 2
Edit
"Veneno Para Las Hadas"
Edit
Lysander first appears on guard when Train takes his place. He comments on how quiet it has been
"My Book of Regrets"
Edit
Lysander, as well as Phillip James and Miranda arrive at Jack West's house after hearing him punch the wall and yell
"Home Invasion"
Edit
Lysander is present at the beginning of the attack on Apex. During the attack, he shoots and kills Spencer as the latter uses the machine gun on the truck
"Gravity Eyelids"
Edit
Lysander is seen on guard duty
"Stars Die"
Edit
Lysander is seen on his nightly jog when Rick Conrad walks by. The two talk for a while
Season 3
Edit
Coming soon
Killed Victims
Edit
Numerous counts of zombies
Appearances
Edit
Season 2
Edit
Veneno Para Las Hadas
My Book of Regrets (No Lines)
Home Invasion
Gravity Eyelids (No Lines)
Stars Die
Season 3
Edit