Captain Lucas McDermott is a character in Say Goodbye to America: Scatter and the primary antagonist of Season 3 Episode 10 (Tusk)
Captain Lucas McDermott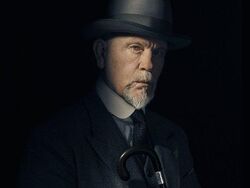 First seen
Tusk (flashback)
Last seen
No Surprises (flashback)
Portrayed by
John Malkovich
Pre-Apocalypse
Edit
Nothing is known about McDermott's life before the outbreak except that he was a Captain in the U.S. Army
Post-Apocalypse
Edit
At the start of the outbreak, McDermott was stationed at the Soapstone Trail Military Base, second-in-command to Major Stuart Montgomery
Scatter Season 3
Edit
McDermott first appears in the briefing room next to Montgomery. After telling Dr. Harold Martin he has not had permission to approach, he is told to stand down by Montgomery. He is signed up for the next supply run and leaves with the other five runners. When only five return, he tells the story of how he and Montgomery went to find survivors they heard but Montgomery got bit and had to be put down. He gives a speech in the briefing room about focusing on finding a cure and how the general was in Texas. He sets forth a new rule but does not instate a totalitarian-style plan at that time.
He is later seen with PFC Gunderson and Private Joseph Jones meeting with Dr. Martin. After recognizing Ellis among the infected, he strangles Dr. Martin and tells him he killed Montgomery and that the general is most likely gone before crushing the doctor's trachea and shooting him and the four infected in the head. He then institutes totalitarian rule and tells Gunderson, Sergeant Gutierrez and Corporal Maxwell to clear the dead at the fences at first light. In the middle of the night, Gutierrez wakes him and tells him the dead have entered the base. McDermott grabs a rocket launcher from his room and heads into the corridors. He later fires the launcher into a hallway full of the dead, killing them all as well as launching Gary Sanchez into a piece of rebar jutting from the wall. After walking through the pile of dead, he puts down the reanimated Gary and tells Gutierrez, Maxwell and David Sharpe to start clearing out the base
Season 4
Edit
"No Surprises"
Edit
It is revealed by Sergeant Gutierrez, through flashback, that McDermott led the group from Soapstone through the woods late at night after the base fell. In the rain, McDermott tripped on a root and twisted his ankle. After pleading with Gutierrez fails, McDermott yells out after the group as he is swarmed by biters and devoured
Killed Victims
Edit
Appearances
Edit
Season 3
Edit
Season 4
Edit
Community content is available under
CC-BY-SA
unless otherwise noted.