Logan Schiff is a character and unintentional antagonist in Say Goodbye to America: Scatter
Logan Schiff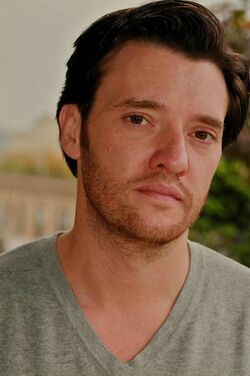 Last seen
Arriving Somewhere but not Here (Alive) Stars Die (Undead)
Death
Strangled to death by Rick Conrad (Alive); Stabbed in the head by Annie McGovern (Undead)
(Arriving Somewhere but not Here (Alive); Stars Die (Undead))
Portrayed by
Jason Butler Harner
Pre-Apocalypse
Edit
Nothing is known about Logan's life before the outbreak
Post-Apocalypse
Edit
At some point, Logan joined the Apex community and became a teacher alongside Kendall Standish
Scatter Season 2
Edit
Logan is first seen in the schoolhouse teaching Piper Conrad, Chuck Conrad, Allison and Bradley and going over the homework. He asks where Devin Nelson is
"Veneno Para Las Hadas"
Edit
Logan appears with Rick Conrad talking about Chuck. He asks Rick's permission to help teach Chuck to shoot a gun
"My Book of Regrets"
Edit
Logan appears with Rick and Chuck after the latter learns how to shoot
"Home Invasion"
Edit
Logan appears in the schoolhouse as it is burning down after being hit with grenades and fire bombs by Miguelito. Out of fear, he leaves Chuck and Bradley behind in the burning building
"Arriving Somewhere but not Here"
Edit
Logan is seen praying at the half-built church about his actions during the attack on Apex. He attacked by an angry Rick, who learns his son could have been saved by Logan. The two fight, but ultimately, Rick chokes Logan to death
"Stars Die"
Edit
Logan, now undead, walks upon Annie McGovern while she shoos away a cat outside her house. He bites her in the neck. As he devours her, she uses what strength she has left to pull a knife out and stab the undead Logan in the head
Killed Victims
Edit
Killed By
Edit
After learning Logan ran away from the burning church instead of saving his son, Rick chokes Logan to death inside the half-built church
After turning, Logan bites and infects Annie McGovern, who puts him down with what little strength she has left
Appearances
Edit
Season 2
Edit
Once
Veneno Para Las Hadas
My Book of Regrets
Home Invasion
Arriving Somewhere but not Here
Stars Die