Lindsay Meyerson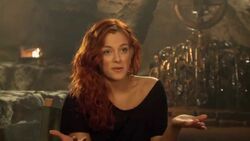 Last seen
Veneno Para Las Hadas (Alive) Home Invasion (Zombified)
Death
Shot by an Unknown Gunman (Alive) Put down by Octavio Arévalo (Zombified)
Relations
Matt Graham (Boyfriend)
Portrayed by
Riley Keough
Lindsay Meyerson is character in Say Goodbye to America: Scatter
Pre-Apocalypse
Edit
Nothing is known about Lindsay's life before the outbreak
Post-Apocalypse
Edit
At some point, Lindsay joined the Apex community
Scatter Season 1
Edit
Lindsay first appears with Matt Graham attending Jenny's party.  She later appears with Matt heading towards Elizabeth's office, but the two leave when they find Phillip James with her.
Lindsay appears in the church with Matt and Olivia Graham during Judy's service.  She later appears during the Massacre at the Target and, along with Ruben Eastview and Warren Smith, shoot and kill Kenzie and Maria.  Afterwards, she and Sylvester Nelson carry Gavin Foxx into Taylor
Lindsay is seen talking with Nathan before leaving the Target
Season 2
Edit
Lindsay appears with Annie McGovern, Hannah Johnson and Miranda when the group who went to the mall return
"Veneno Para Las Hadas"
Edit
Lindsay is seen with Nathan and Luka, who comfort her letting her know Matt never returned from the mall
"Home Invasion"
Edit
Although not seen during the battle, Lindsay is ultimately killed by an unknown gunman and turns. Matt finds her and is unable to put her down, surrendering to her. Octavio puts her down and comforts Matt
Killed Victims
Edit
Killed By
Edit
Unknown Gunman (Alive)
Edit
During the attack on Apex, Lindsay is shot and killed by an unknown gunman
After Lindsay turns, she is put down by Octavio
Appearances
Edit
Season 1
Edit
Others (No Lines)
Pain (No Lines)
Death
Season 2
Edit
The Same Asylum as Before (Mentioned only)
Once (No Lines)
Veneno Para Las Hadas
Home Invasion (Zombified)
Despite appearing in two episodes, she had not had any lines until her third appearance
Community content is available under
CC-BY-SA
unless otherwise noted.