Liam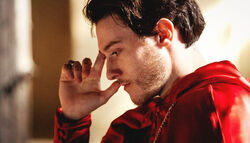 Last seen
Death (Alive) Wet Ribbon (Corpse)
Death
Shot in the head by Ruben
Relations
Emily (Sister; deceased)
Portrayed by
Diarmuid Noyes

Liam is a character in Say Goodbye to America: Scatter
Pre-Apocalypse
Edit
Nothing is known about Liam's life before the outbreak
Post-Apoclaypse
Edit
At some point, Liam joined Gregory's group
Scatter Season 1
Edit
Liam first appears after Brooks shoots Judy.  He, along with Rick Murphy and Richardson run into the Target to search for survivors.  Although unseen, Liam reports that Richardson was bit and he put him down.  
Liam, along with Alex, welcome Gregory back after being attacked and tells the latter about Stefan's death. He is forced to find Sean Moreland and bring him into the fighting ring, where he is seen holding the latter with Spencer. He watched as Sean overpowers Avi in the ring before being told by Gregory to join Alex and Callum on a mission back to the Target to investigate. Before he leaves, he stops by in Izabel's trailer and asks for a goodbye kiss. Izabel says she'll give him more than that when he returns. He hugs her and unhooks her bra. He later walks with Alex and Callum when the latter reveals his homosexuality to the two, and Liam reassures him he has no issue with that. He says he will always have Callum's back in case anyone has an issue with it. At some point, Liam reveals he has an eating disorder. Once the three arrive at the Target, they find it abandoned. While standing there, Liam is suddenly shot in the head by Ruben
Season 2
Edit
"Wet Ribbon"
Edit
Liam's corpse is discovered by Maine, Max and Taz in the Target lot being munched on by two walkers
Killed Victims
Edit
Richardson (Before Reanimation)
Numerous counts of zombies
Killed By
Edit
While standing in the Target parking lot, Liam is suddenly shot in the head by Ruben
Appearances
Edit
Season 1
Edit
Help
Pain (Mentioned Only)
Death
Season 2
Edit
Community content is available under
CC-BY-SA
unless otherwise noted.