Kevin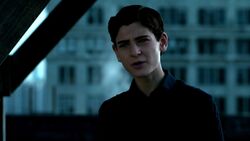 Portrayed by
David Mazouz
Kevin is a character in Say Goodbye to America: Scatter
Pre-Apocalypse
Edit
Nothing is known about Kevin's life before the outbreak
Post-Apocalypse
Edit
At some point, he joined Gregory's group
Scatter Season 1
Edit
Kevin is first seen with Gregory and Rick Murphy talking about being ready for the planned attack on the Target.  He is told by Gregory to stay behind, which he is not a fan of
Season 2
Edit
"Wet Ribbon"
Edit
Kevin is seen at Lewis's door telling him Stephanie Key was attacked. He comforts her with Lewis and Maine. He is present later when the latter, along with Max, Taz and Lewis, bring Johnny and Richard into the fighting circle. He watches Richard nearly decapitate Johnny and as Maine shoots the former in the head
"Veneno Para Las Hadas"
Edit
Kevin appears asking Lewis what he can do to help. Lewis tells him to look for medicine
"My Book of Regrets"
Edit
Kevin is seen with Lewis and Max asking if they will attack Apex. When they say no, he calls them losers and leave
"Home Invasion"
Edit
Kevin is present during the attack on Apex. He flees into the woods with Samuel Tollett and discuss what will happen when they return
"Stars Die"
Edit
Kevin is seen with Samuel in North Chatham Elementary, arguing about not having a place back at the Yard. The pair then meet Cole and Basil, Apex survivors. After revealing Kevin and Samuel attacked Apex, Basil reaches for his gun before Cole tells them to talk it out
Season 3
Edit
Kevin is seen with Samuel, Cole and Basil walking down a road when the four are approached by a vehicle and are seen putting their hands in the air
Killed Victims
Edit
Numerous counts of zombies
Appearances
Edit
Season 1
Edit
Season 2
Edit
Wet Ribbon
Veneno Para Las Hadas
My Book of Regrets
Home Invasion
Stars Die
Season 3
Edit
Kevin, along with Samuel Tollett, are the second characters revealed to be appearing in Season 3 early. The first was Lewis
Along with Cole, Basil and Samuel Tollet, Kevin had been marked unknown since Season 2 Episode 6 (Home Invasion), before being re-introduced in Season 2, Episode 11 (Stars Die)

Along with the three, Kevin will be moved up to Also Starring in Season 3
Community content is available under
CC-BY-SA
unless otherwise noted.