Kenneth is a character in Say Goodbye to America: Scatter
Kenneth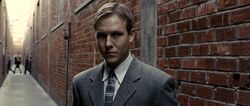 First seen
The Same Asylum as Before
Last seen
The Same Asylum as Before
Death
Shot by Matt Graham (Alive) Stabbed in the head by Lulu (Zombified)
(The Same Asylum as Before)
Portrayed by
Michael William Freeman
Pre-Apocalypse
Edit
Nothing is known about Kenneth's life before the outbreak
Post-Apocalypse
Edit
At some point, Kenneth joined Gregory's group
Scatter Season 2
Edit
"The Same Asylum as Before"
Edit
Kenneth joins Gregory on the mission to the mall with the rest of the 'B' Squad. He enters the jewelry store with Gregory, Margot and Nils. He, along with Gregory, aim their guns at Matt Graham and Bentley, respectively, and although Gregory kills Bentley, Kenneth is unable to hit Matt. Kenneth goes after Matt with a knife and is subsequently shot in the leg and then the chest. While investigating later, Julian comes across Kenneth's body and attempts to help, but Kenneth has turned and attempts to bite the former. Lulu comes in and puts Kenneth down for good
Killed Victims
Edit
Numerous counts of zombies
Killed By
Edit
While going after Matt with a knife, Kenneth is subsequently shot and killed before turning
After turning, Lulu stops an undead Kenneth from biting Julian by stabbing him in the head
Appearances
Edit
The Same Asylum as Before
Community content is available under
CC-BY-SA
unless otherwise noted.