Karim Fadil is a character in Say Goodbye to America: Scatter
Karim Fadil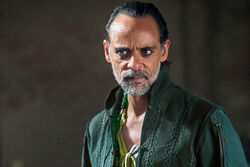 Death
Beaten to death with a table leg
Portrayed by
Alexander Siddig
Pre-Apocalypse
Edit
Nothing is known about Karim's life before the outbreak
Pre-Apocalypse
Edit
At some point, Karim joined the O'Connor Compound
Scatter Season 3
Edit
Karim is first seen with Copper when Thomas Packer gives the pair Eli Wilson to take to Ned O'Connor
"... Hello...?"
Edit
Karim appears with Copper taking Eli to Ned and taking him away when Ned is done with him
Karim appears giving food to Eli, Basil, Kevin, Cole and the other prisoners. When Eli begins telling the other prisoners about how they are being served human meat, Karim aims to kill him, but Peanut intervenes, breaks Karim's finger, and knocks him out
Karim appears still knocked out
Season 4
Edit
"No Surprises"
Edit
Karim appears keeping watch over Asher Praedo, who is tied up for interrogation. He proceeds to hold Asher's head when Ned wants to pull an eyelid out but is unable to. Karim is then let free to torture Asher further
"Where We Were"
Edit
After Asher finally speaks, Ned has Karim take care of him and bring him dinner. During dinner, Karim insults Asher, which causes him to throw his burning hot chicken pot pie into Karim's face. The two fight and Karim is able to choke Asher but is beaten down and killed with a table leg
Killed Victims
Edit
Numerous counts of zombies
Killed By
Edit
Asher Praedo

After fighting with Asher, Karim is beaten to death with a table leg
Appearances
Edit
Season 3
Edit
Food (No Lines)
... Hello...?
Torn
Light (No Lines)
Season 4
Edit
No Surprises
Where We Were
Karim is initially credited as Unnamed O'Connor Compound Guard 1 in Season 3, Episode 6 "Food"
Community content is available under
CC-BY-SA
unless otherwise noted.