Juneau

Data

Status

Alive

Age

16

Miscellaneous

Actor likeness

Epiphany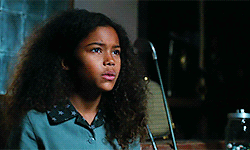 THEME
Juneau is a supporting character in Epiphany. As a senior member of her community, Juneau serves as a messenger and intercessor to reach out to surrounding colonies. The General has left his mark in the hearts of her people, and they live in fear of him every day. Juneau takes her job as intercessor very seriously, and a lot of the responsibility of her community lies on her shoulders. Although her typical demeanor is calming and nurturing, there is a ruthlessness that lies beneath the surface that proves that her priority is the safety and security of her people. Having had nothing her whole life, Juneau had to learn very early on that the only person she could trust wholeheartedly for her survival is herself.
Description
Edit
Coming soon.
Coming soon.
Juneau has no counterpart in Eden Rising, the story of which Epiphany is a reimagining.
Community content is available under
CC-BY-SA
unless otherwise noted.