Julian is a character in Say Goodbye to America: Scatter
Julian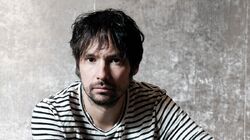 First seen
The Same Asylum as Before
Pre-Apocalypse
Edit
Nothing is known about Julian's life before the outbreak
Post-Apocalypse
Edit
At some point, Julian joined Gregory's group and became a member of his 'B' Squad
Scatter Season 2
Edit
"The Same Asylum as Before"
Edit
Julian is among those who accompanies Gregory on the mission to the mall. He rides with Spencer, Miles, Kenneth and Lulu. After making their way into the mall, he heads with Lottie and Cosmo Murphy into the Sears Outlet. He later checks the jewelry store for Kenneth and checks for a pulse. Kenneth, already turned, almost bites Julian, but is stopped by Lulu. Julian then stabs Bentley in the head before the other man can turn and takes his gun.
"Wet Ribbon"
Edit
Julian joins the rest of the 'B' Squad with Gregory to investigate the screams from earlier. He watches as Spencer shoots Timothy West in the stomach, which ultimately leads to the latter's death. He later runs away from the mall with the rest of the group when the biters overrun it
Julian appears when Spencer crashes the car and is forced to walk back to Apex. He is present when Margot dies and he is saved by Gregory and the others.
"My Book of Regrets"
Edit
Julian appears with Lewis, Max, Anthony, Daisy Montgomery and Samuel Tollett. He explains he is staying at the Yard instead of going to Apex. He later appears with Lewis and Max when he is shown Anthony's reanimated corpse. He decides to leave the Yard the next day.
"Home Invasion"
Edit
Julian, along with Lewis, leave the Yard after releasing an undead Anthony
"It Will Rain for a Million Years"
Edit
Julian is seen walking with Lewis as they walk away from the Yard and towards Apex. After being attacked by walkers and being in a tough situation, Lewis saves Julian's life
"Trains"
Edit
Julian arrives at Apex with Lewis and is allowed in by Todd Andrews
"Arriving Somewhere but not Here"
Edit
Coming soon
Killed Victims
Edit
Bentley (Before Reanimation)
Numerous counts of zombies
Appearances
Edit
Season 2
Edit
The Same Asylum as Before
Wet Ribbon
Once
My Book of Regrets
Home Invasion
It Will Rain for a Million Years
Trains
Arriving Somewhere but not Here
Community content is available under
CC-BY-SA
unless otherwise noted.