John is a character in Say Goodbye to America: Scatter
John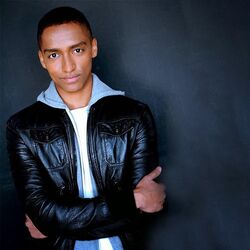 Death
Stabbed and eviscerated by Ozzy
Pre-Apocalypse
Edit
Nothing is known about John's life before the outbreak
Post-Apocalypse
Edit
At some point, John joined the Yard
Scatter Season 3
Edit
John is first seen around a fire pit with the rest of the survivors in the Yard. He is the first to speak up when helping Gregory Ames decide whether or not to stay at the Yard. He votes to stay. After a crew of 8 leave on a supply run to rebuild the Yard, Gregory talks to John about becoming one of the former's small council after Marcellus's death
John is seen with Arrowhead in Gregory's trailer trying to help him with his plans for Apex
"Revelations"
Edit
John is present during the fire pit feast and listens to Brooks tell his story. He later fights biters when they attack the Yard, and is seen protecting the medical trailer when Amin and Vass bring an injured Grease inside. He is later seen putting down Max before he can turn
John is seen standing with the others waiting outside Grease and Amin's tent. He asks if Grease has died and is saddened when he finds out he did.
John is seen with Ryo Osaka and Rick Murphy walking up to Brooks after the death of Gregory. During a service before leaving the Yard, John mentions Alexander and Anthony's names. He joins the rest to follow Annabelle Wheeler and Daisy Montgomery
"... Hello...?"
Edit
John arrives with the others and meets General Joseph Haynes
John appears with the other survivors meeting in the mess hall
"Outrageous"
Edit
John appears when the biters make their way into the base, running up with Josephine and Ryo to help Craig Wing. He is grabbed by a biter but is saved by Corporal AJ Morgan, and receives the signal from Craig to not try and help him. He is later trapped with Rick and Ryo trying to find the others, killing as many of the dead as they can, but Rick is bitten in the process. The three are saved by Major Vernon Sawyer. When they are free, John suggests they head to Apex
Season 4
Edit
"No Surprises"
Edit
John appears at the Wiggins Outpost when survivors from the O'Connor Compound attack. He joins Amin, Nathaniel, Shania and Peanut in following their attackers. When they get to a clearing surrounded by biters, John has them hold their ground, but is shocked to see Shania get shot and devoured and Nathaniel being beaten by a large man wearing the skin of the dead. As he moves to help Nathaniel, John is stabbed in the gut with a spear by Ozzy, who pulls the spear to the side and pulls John's guts out. He drops to the ground and is stabbed in the head
Killed Victims
Edit
Max (Before Reanimation)
Numerous counts of zombies
Killed By
Edit
Ozzy

While trying to save Nathaniel, John is stabbed in the stomach and eviscerated by Ozzy
Appearances
Edit
Season 3
Edit
Lift
Alone
Revelations
Me?
Food
... Hello...? (No Lines)
Light
Outrageous
Season 4
Edit
Community content is available under
CC-BY-SA
unless otherwise noted.