John is a character in Say Goodbye to America: Scatter
John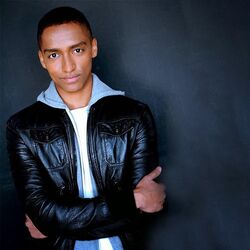 Pre-Apocalypse
Edit
Nothing is known about John's life before the outbreak
Post-Apocalypse
Edit
At some point, John joined the Yard
Scatter Season 3
Edit
John is first seen around a fire pit with the rest of the survivors in the Yard. He is the first to speak up when helping Gregory Ames decide whether or not to stay at the Yard. He votes to stay. After a crew of 8 leave on a supply run to rebuild the Yard, Gregory talks to John about becoming one of the former's small council after Marcellus's death
John is seen with Arrowhead in Gregory's trailer trying to help him with his plans for Apex
"Revelations"
Edit
John is present during the fire pit feast and listens to Brooks tell his story. He later fights biters when they attack the Yard, and is seen protecting the medical trailer when Amin and Vass bring an injured Grease inside. He is later seen putting down Max before he can turn
Coming Soon
Killed Victims
Edit
Max (Before Reanimation)
Numerous counts of zombies
Appearances
Edit
Season 3
Edit
Lift
Alone
Revelations
Me?