Jenny Hanson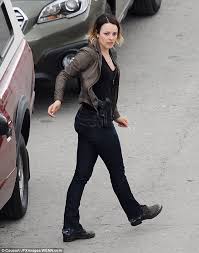 Relations
Husband (Deceased)
Portrayed by
Rachel McAdams
Jenny Hanson is a character in Say Goodbye to America: Scatter
Pre-Apocalypse
Edit
Nothing is known about Jenny's life before the outbreak
Post-Apocalypse
Edit
At some point, Jenny founded the Apex community with a few others and was elected to lead
Scatter Season 1
Edit
Jenny first appears when Fish West brings Todd Andrews to meet her.  She interviews Todd to see if he's worthy enough to join the community.  
She is seen talking with Todd about having a party to introduce people to Todd, Phillip James and Dimitri Vanderbilt.  She is approached by Eric Dugan who asked to switch houses so he doesn't have to live with Luka anymore.  She opens the door for Todd and Phillip and tries to introduce them to several others.  She tries to get Dimitri to stay and enjoy the party
Jenny appears with Todd and Phillip asking them to choose jobs.  She later appears as Leo knocks on her door and asks to speak with her. 
Jenny appears with Leo on Rick Conrad's front doorstep to tell him about his ex-wife, Judy's, passing.  After leaving, she tells Leo to take a large group, retaliate, and rescue Niklas. She tells him, if need be, kill Niklas so he doesn't talk.  She later appears with Leo's rescue crew before they leave.  It is revealed she sent Scott Cleary to see if the Target could be a stronghold.
Jenny holds a service for Judy in the church and tells the town about the capture of Niklas, the possibility of making the Target a stronghold and the run to the mall to scavenge supplies.  As she leaves, she is approached by Ray, who is upset that she sent Warren Smith, Paul and Tim against his will, but she reminds him that she runs the town, and it's her call.  She is then approached by Garrett Smith asking to be taken off construction and placed in the mall scavengers.  She runs into the West brothers who ask if she will be joining for movie night before finally running into Bentley and Kendall Standish, who ask for morning after pills.  She exits the church and comes across Todd, who tosses her a bagel.  She talks with him and Annie McGovern for a bit before leaving.  It is revealed that she sent more construction workers to help at the Target
Jenny appears with Elizabeth, Garrett, Matt and Tracy talking about who is set to go on the run to the mall. She later appears talking to Bentley and Kendall about Bentley leaving as well when Oliver knocks on her door and tells her Leo returned. She is present with the reveal of Gavin Foxx and takes him to show him where they prep meals, welcoming him to the community
Season 2
Edit
"The Same Asylum as Before"
Edit
Jenny is seen when Eddie Hedd brings Sean Moreland to her door to be interviewed. She is in her house when Scott Cleary, Ruben Eastview and Warren Smith walk in with Gavin Foxx with an idea for what he can do at Apex. She notices Gavin and Sean know each other
Jenny appears with Otis when Todd returns and tells the two about Bentley and Tracy Long's deaths (and Matt Graham's apparent death). She is visibly shocked
"Veneno Para Las Hadas"
Edit
Jenny stands in her house with Otis, Eddie, Aaron Meyer and Leo telling the latter three to bring Garrett and Fish back, at the behest of Eddie. She is present when Warren Smith is brought back with half his arm cut off
"My Book of Regrets"
Edit
Jenny is met by Dexter Hubbard and Olivia Graham, who give her fresh greens from their garden. She is later seen when Gregory Ames arrives with an armada and she tells him she will not give up Apex
"Home Invasion"
Edit
Soon after the shooting starts, Jenny is taken and hidden by Olivia and Dex
"It Will Rain for a Million Years"
Edit
Jenny is seen in her house after calling a meeting to see who will go out and find supplies and rebuild some of Apex that was destroyed. She then introduces Sebastián Bernal, Octavio Arévalo and Evan Curtis.
"Trains"
Edit
Jenny is seen meeting Nils and Izabel before moving them into Oliver and Eli Wilson's house
"Arriving Somewhere but not Here"
Edit
Jenny is seen talking with Tess in the laundromat before heading to the gate with Octavio and Evan about the arrival of two survivors from the Yard: Lewis Edwards and Julian Watts. She is surprised that the pair let an undead Anthony on their own people, but allows them to enter anyway. She eventually meets with the pair along with Nils and Izabel about a possible second attack from Gregory. She watches as Niklas attacks Nils with a knife and has Ruben, Sean and Eli take the former into her house while Oliver, Izabel and Lewis take the latter to Elizabeth. She ushers the crowd that formed back to their homes
"Stars Die"
Edit
Jenny is seen sleeping in her house with evidence of a terrible sleep
"Off the Map (The Day That Never Comes)"
Edit
Jenny is seen as Todd runs rampant through Apex screaming Annie's name. To save him some pain when he finds her reanimated, Jenny shoots her in the head, killing her
Season 3
Edit
Jenny is seen in her house when Leo walks up having brought people from Waterfront. She explains what happened while they were gone and asks Leo to go on a supply run. She gets Miranda a cup of coffee and is surprised when Dustin Hammond, a former rebel, asks for one too, but she makes it for him anyway
Jenny is seen arriving at Waterfront at gunpoint from Harvey. Once Reina vouches for her, she, along with Aaron and Horatio Whittaker, are allowed inside to meet Chester Navarro (and to a lesser extent, Richard Harris). She meets with him to discuss possible terms of trade, offering knowledge and plans for society i exchange for extra manpower in case of Gregory's return. Chester instead invites them out for lunch where a man named Robert fires three shots at Chester but is saved by former rebel Ivan Petrova. After Ivan dies and Robert is taken away, Chester continues the meeting to the shock of the Apex survivors.
Killed Victims

Edit
Appearances
Edit
Season 1
Edit
Tears
Others
Help
Fears
Pain
Death
Season 2
Edit
The Same Asylum as Before
Once
Veneno Para Las Hadas
My Book of Regrets
Home Invasion
It Will Rain for a Million Years
Trains
Arriving Somewhere but not Here
Stars Die (No Lines)
Off the Map (The Day That Never Comes)
Season 3
Edit
Community content is available under
CC-BY-SA
unless otherwise noted.