Corporal Jeff Lever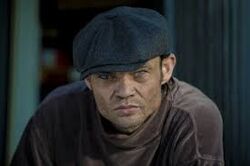 Portrayed by
Micah Fitzgerald
Pre-Apocalypse
Edit
Nothing is known about Jeff's life before the outbreak, except that he was a Corporal in the U.S. Army
Post-Apocalypse
Edit
Coming Soon
Scatter Season 3
Edit
Jeff is first seen bringing Luka in front of the other soldiers and doctors in the basement of Wilson Memorial Hospital and Research Center.
Jeff is introduced to the rest of the Apex group in the hospital. He, Leo Henderson and Dr. Aidan Stockdale search to find another subject for testing. Along the way, Jeff reveals he was once a sergeant before he had an issue with his lieutenant and was demoted. The three then take out numerous biters before choosing one for testing
"Revelations"
Edit
As the group from Apex is leaving the hospital, Jeff reveals to Leo he killed his lieutenant for sleeping with his wife. Leo reassures Jeff and shakes his hand as the two part ways
Jeff rides with Roscoe Jefferson, Brooks and Arrowhead towards Apex, questioning his superior if they can trust the survivors from the Yard. When they arrive at Apex, they are first denied entry by Devin Nelson but Ray allows them to enter. There, they meet Luka, Tess, Kendall Standish and Will Knight. When Izabel and Nils enter, they immediately draw their weapons, and Jeff and Roscoe convince the others to drop their weapons
Killed Victims
Edit
Unnamed Lieutenant
Numerous counts of zombies
Appearances
Edit
Season 3
Edit
Lift
Pact
Revelations
Torn
In Season 3 Episode 1 and 3, Jeff is credited under Co-Starring but from Season 3 Episode 4 and onward he is credited under Also Starring
Community content is available under
CC-BY-SA
unless otherwise noted.