Jed Armitage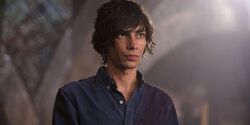 Last seen
A Plague On Your Houses
Death
Died from injuries sustained in a car bomb (alive) Put down by
Seth Young
(before reanimation)
(A Plague On Your Houses)
Portrayed by
Devon Bostick
Pre-Apocalypse
Edit
Nothing is known about Jed's life before the outbreak
Post-Apocalypse
Edit
At some point, Jed joined the Waterfront community and became the leader of the Winton Outpost
Scatter Season 3
Edit
Jed is first seen playing with a Rubix cube when Chester Navarro uses the telegraph to tell him to head to HQ and be cautious of everyone. He grabs his coat and leaves
Jed appears with his second-in-command Elijah Fitzgibbons arriving at Waterfront and meeting with Chester, Barney Munson and Arturo Vazquez. He is present when Robert tries to kill Chester but Ivan Petrova takes the bullets instead
"Revelations"
Edit
Jed is present when Chester signs a deal with Apex. He is present when Chester realizes Brie sent Robert to kill Chester and is part of the rebellion
Jed appears with Chester and Elijah try to determine where Brie ran to. He is present when Blake Miller brings Leo Henderson and Elizabeth Hill from Apex
Jed appears with the others after learning of Cassius Killian's escape, and they come to believe the rebellion had a bigger plot
"...Hello...?"
Edit
Jed is with the others when the survivors from Apex arrive at the Waterfront after learning about the larger plot of rebellion
Jed is present during the rebellion, where he is shot in the leg by Sharissa. He is present when Elijah is killed by Harvey
Jed is present in the aftermath of the rebellion, suggesting they bury the deceased
"Outrageous"
Edit
Jed drives with Nate Demarco and Milo back to their respective outposts
Season 4
Edit
"No Surprises"
Edit
Jed arrives with Chester, Vazquez, Leo, Phillip James, Nick D'Atomeo and Horatio Whittaker in the aftermath of the attack on the outpost
"Where We Were"
Edit
Jed appears during the meeting in the Waterfront theater, questioning how the survivors from the O'Connor Compound could be crafty
"A Plague On Your Houses"
Edit
Jed appears with his guard shift group working in the gardens outside of Waterfront. When Will drives a car bomb into the community and kills most of his group mates, Jed loses his leg, and is seen being dragged by Nate and Kotter to Richard Harris. While slowly dying from his injuries, he pleads for Seth Young to put him down and for Richard to help other injured survivors who have a better chance of survival. When he later dies, he is put down by Seth
Killed Victims
Edit
Numerous counts of zombies
Killed By
Edit
Zeke (caused)
Will (alive)
Seth Young (before reanimation)

Jed dies from injuries sustained from a car bomb Zeke set up and blown up by Will. Before he can turn, he is put down by Seth Young
Appearances
Edit
Season 3
Edit
Alone
Pact
Revelations
Me?
Food
...Hello...? (No Lines)
Torn (No Lines)
Light
Outrageous (No Lines)
Season 4
Edit
No Surprises (No Lines)
Where We Were
A Plague On Your Houses
Community content is available under
CC-BY-SA
unless otherwise noted.