Jasper Bernard is a character in Say Goodbye to America: Scatter
Jasper Bernard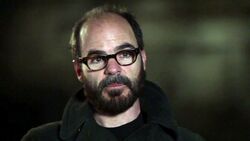 Portrayed by
Michael Kelly
Pre-Apocalypse
Edit
Nothing is known about Jasper's life before the outbreak
Post-Apocalypse
Edit
At some point, Jasper joined the Apex community as the leader of the farming community
Scatter Season 2
Edit
Jasper first appears with Luka talking about the strawberries in the farming community. He talks with Eli and Dimitri after the pair arrive in Tracy's Hyundai and wishes Eli well.
"Veneno Para Las Hadas"
Edit
Jasper appears with Harper and Deedee complaining about the work load since Luka and Eli did not show up to farm
"My Book of Regrets"
Edit
Jasper appears with Eli, Luka and Harper walking back from the fields talking about fresh fruit and vegetables. He is seen the next day with Luka walking to the fields
"Home Invasion"
Edit
Jasper is unaware when the attack on Apex begins. He is attacked by Cosmo Murphy, Daisy Montgomery, Peanut and Joe Jeffries as the fields burn. He suddenly appears behind Cosmo as the latter kills Deedee before Jasper shoots at Daisy, causing her to run. He puts down Deedee before helping Luka and his burned arm back to Apex
"It Will Rain for a Million Years"
Edit
Jasper is seen telling Eli to calm down while his gun is aimed at Peanut. He is later seen in Jenny Hanson's house after the meeting and is offended about her not mentioning the people they lost. He is seen reading 'Heart of Darkness' in his bedroom during the thunderstorm
"Arriving Somewhere but not Here"
Edit
Coming soon
Killed Victims
Edit
Deedee (Before Reanimation)
Numerous counts of zombies
Appearances
Edit
Season 2
Edit
Once
Veneno Para Las Hadas
My Book of Regrets
Home Invasion
It Will Rain for a Million Years
Arriving Somewhere but not Here
Community content is available under
CC-BY-SA
unless otherwise noted.