Jason LePage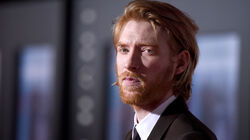 Death
Throat Slit by Reid
Portrayed by
Domhnail Gleeson
Jason LePage is a character in Say Goodbye to America: Scatter
Pre-Apocalypse
Edit
Nothing is known of Jason's life before the apocalypse, except that he was an exterminator
Post-Apocalypse
Edit
At some point in the apocalypse, he joined the Apex community.  He typically likes to get high with Fish
Jason joins Leo's crew to help find Niklas.  The night they arrive at the Target, Jason has recurring nightmares about his fear of foxes.  He leaves with Leo and Dexter to track Niklas on foot the next morning.  
The three split off from each other, with Jason heading straight.  Jason ends up finding Niklas in a tent and radios for the pair to help him save Niklas.  Before Leo can reach him, Jason ends up in Reid's grasp, with a knife up to his throat.  After trying to warn Leo that Niklas is alive, he is slapped in the face and booped on the nose by Alex.  After Alex leaves, Reid, unconviced by Leo's proposal, slits Jason's throat and let's him bleed out.  
Killed Victims
Edit
Numerous insects and verminous animals
Numerous counts of zombies
Killed By
Edit
After Leo tells Alex his plan for cooperation, Alex leaves Reid and Maxwell to the three men.  Reid does not like Leo's plan and instead sadistically slices Jason's throat open with a knife.  Neither Leo nor Dex could do damage to Jason's brain before they left, leaving Jason to roam undead
Appearances
Edit
Jason is the first member of the Apex community to be undead
Community content is available under
CC-BY-SA
unless otherwise noted.