Jason Herr is a character in Say Goodbye to America: Scatter
Jason Herr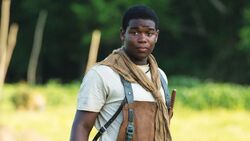 Portrayed by
Dexter Darden
Pre-Apocalypse
Edit
Nothing is known about Jason's life before the outbreak
Post-Apocalypse
Edit
At some point, Jason made his way to the O'Connor Compound, where he was made a prisoner
Scatter Season 3
Edit
Jason is first seen with the other prisoners when Eli Wilson reveals they are all eating human flesh, and is one of those to vomit. He later appears when Victor Montrose and Peanut reveal they have a plan of escape
Jason is sitting against the wall when the group hears a knock at the wall, but is relieved it is just other prisoners next to them. He later reveals he can hear what Victor is saying through the other side of the wall. During their escape, Jason follows Peanut, Hazel, Ilene Wright and Megan, but he and the latter are shot by Julia Sabre during their escape. When the group's vehicles are stuck in the mud, he and Megan stay in the vehicles, where Jason watches as Patrizia is devoured, unable to help her in any way.
Killed Vicitms
Edit
Numerous counts of zombies
Appearances
Edit
Season 3
Edit
Torn (No Lines; uncredited)
Light
Community content is available under
CC-BY-SA
unless otherwise noted.