Jarrod Davis is a character in Say Goodbye to America: Scatter
Jarrod Davis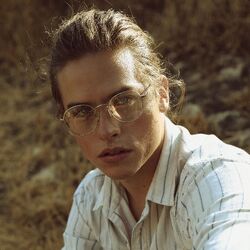 Relations
Elle- girlfriend
Portrayed by
Dylan Sprouse
Pre-Apocalypse
Edit
Nothing is known about Jarrod's life prior to the outbreak, except that he was a college student
Post-Apocalypse
Edit
At some point, Jarrod made a home in his university's med school, which he dubbed Cydonia
Scatter Season 4
Edit
"No Surprises"
Edit
Jarrod is first seen when Eli Wilson, Quinn Kane and Ryo Osaka find him hidden away while searching the med school for supplies. Jarrod tells them what they want to know before taking them to his room, where his girlfriend Elle waits for him, and then to Becky's so they can get supplies. He later takes Eli to investigate a gunshot, where they find Fish West and Sylvester Nelson in a standoff with Roger Fester, J.D. Eisbach and Andrew Marino. He tries to keep the peace between the groups once the soldiers, led by Sergeant Gutierrez, arrive with their guns raised.
"Where We Were"
Edit
Jarrod first appears with Eli and J.D. packing up their things before leaving for Apex. Along the way, Becky's car breaks down and the horn starts blaring, causing biters to swarm around them. Jarrod is able to convince Artie, who had never killed biters before then, to finally start doing so to help everyone. After the biters are dead, Jarrod shares a heartfelt goodbye with an infected Artie before walking into the woods and putting him down
"A Plague On Your Houses"
Edit
Jarrod will appear in this episode
Killed Victims
Edit
Artie (before reanimation)
Numerous counts of zombies
Appearances
Edit
Season 4
Edit
No Surprises
Where We Were
A Plague On Your Houses
Community content is available under
CC-BY-SA
unless otherwise noted.