The Jane is a character in Say Goodbye to America: Scatter
Jane Byron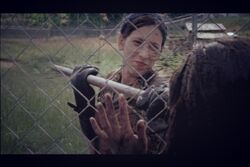 Death
Devoured by biters (Alive) Put down by Ryo (Before Reanimation)
Portrayed by
Jilian McLendon
Pre-Apocalypse
Edit
Nothing is known about Jane's life before the outbreak
Post-Apocalypse
Edit
At some point, the survivor joined the Yard
Scatter Season 2
Edit
"Home Invasion"
Edit
The survivor is first seen with Max and James Walsh when an undead Anthony attacks the Yard. She brings Max inside and asks how it got that bad
"It Will Rain for a Million Years"
Edit
Jane is inside the building with the other survivors when she notices James's bite and informs Max. She helps the kid for a little while.
"Trains"
Edit
Jane appears upset of Gregory's use of the word 'cunt', but is told by Brooks that no one cares what she thinks. She later appears checking up on Fig, but informs him that he will eventually die from the bullet lodged in him since there is no exit wound and she cannot take it out
"Gravity Eyelids"
Edit
Jane watches Gregory kill Marcellus
"Stars Die"
Edit
Jane questions Rick Murphy about Gregory, then listens to his speech
Season 3
Edit
Jane is seen during the vote in the Yard. She, along with Max, Adam McGill and Ryo Osaka vote to leave the Yard, but ultimately stay anyway
Jane is seen talking with Ryo
"Revelations"
Edit
Jane is seen at the fire pit feast and listens to Brooks's story, offering her love and support, although he rebuffs her compassion. When the biters attack, she is seen briefly holding her own but later shown to already be dead and being devoured. She is put down by Ryo before she can turn
Killed Victims
Edit
Numerous counts of zombies
Killed By
Edit
Biters (Alive)
Edit
During the invasion of the Yard, Jane is devoured by biters
After the invasion, Ryo puts Jane down so she doesn't turn
Appearances
Edit
Season 2
Edit
Home Invasion
It Will Rain for a Million Years
Trains
Gravity Eyelids (No Lines)
Stars Die
Season 3
Edit
Lift
Pact (No Lines)
Revelations
Community content is available under
CC-BY-SA
unless otherwise noted.