The James Walsh is a character in Say Goodbye to America: Scatter
James Walsh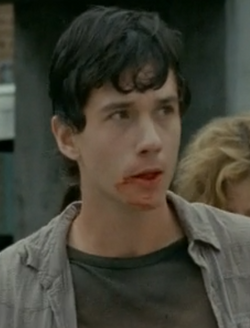 Last seen
It Will Rain for a Million Years
Death
Bitten by a walker (Alive) Put down by Max (Before Reanimation)
(It Will Rain for a Million Years)
Relations
Unnamed Mother (deceased)
Pre-Apocalypse
Edit
Nothing is known about soldier's life before the outbreak
Post-Apocalypse
Edit
At some point, the soldier joined the Yard
Scatter Season 2
Edit
"Home Invasion"
Edit
The unnamed soldier is first seen with Max and Jane Byron after an undead Anthony attacks the Yard. He brings Max inside the building and asks what to do
"It Will Rain for a Million Years"
Edit
It is revealed by Jane's inspection that James is bitten on the shoulder and will eventually die. Not wanting to die yet, he pleads Max to stay with him until he dies. James talks about his mother and about the peaceful feeling he has while he's dying. He eventually died and is put down my Max
Killed Victims
Edit
Numerous counts of zombies
Killed By
Edit
Zombies (Alive)
Edit
During the invasion of the Yard, James is bitten on the shoulder and eventually succumbs to the bite and infection
Max (Before Reanimation) Edit
After James dies from his bite, Max puts him down silently before the kid can turn
Appearances
Edit
Season 2
Edit
Home Invasion
It Will Rain for a Million Years
Similar to Sean Moreland, Jane Byron and Jackson Allen, James Walsh is credited under "Yard Soldier 3" in his first appearance, but is credited under his real name in his next appearance
Community content is available under
CC-BY-SA
unless otherwise noted.