Jackson Allen is a character in Say Goodbye to America: Scatter
Jackson Allen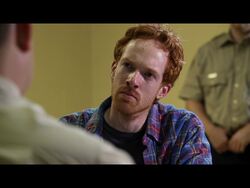 Portrayed by
James Michael Keats
Pre-Apocalypse
Edit
Nothing is known about Jackson's life before the outbreak
Post-Apocalypse
Edit
At some point, the survivor joined the Apex commnuity
Scatter Season 2
Edit
"Home Invasion"
Edit
The survivor is first seen fighting against the armada from the Yard. He is shot in the shoulder by Izabel and carried off the Elizabeth's office by David Blair. He is later seen being treated by Jack West
"It Will Rain for a Million Years"
Edit
Jackson is among those who volunteer to search beyond the borders the community has searched to find supplies to rebuild. He leaves with Doug Santos, Olivia Graham, David Blair and Sebastián Bernal
"Trains"
Edit
Jackson steps out with Doug, Olivia, Sebastián and David to shoot at the walkers coming from the woods. he kills the walker that bites Doug and watches as the latter runs off to allow the others time to escape. He is later seen in the Train Station and finds Ciara Nash with the others. He asks her where she's from and sees her companions, Chester, Barney Munson and Arturo Vazquez when they step out
"Arriving Somewhere but not Here"
Edit
Jackson, along with the others, is introduced to Chester Navarro, Arturo Vazquez and Barney Munson before the group decide to drive towards Waterfront. They stop at one of the outposts before eventually arriving at the gates of Waterfront. He joins Phillip, Sebastián, Olivia, Miranda and Nathan to meet the leader of the community
"Gravity Eyelids"
Edit
Jackson is introduced to Shoshana Adams with the others from Apex. He brings up the topic of trade between Waterfront and Apex. He is seen on the tour with Chester and asks about the kitchens
"Stars Die"
Edit
Jackson appears with the rest of the group in Shoshana's room after she has been killed. He witnesses Reina kill Cal and reminds her to make sure she destroys his brain so he doesn't turn. He is later seen saving Leo's life by shooting Chuck from the guard tower.
"Off the Map (The Day that Never Comes)"
Edit
Jackson is seen in the infirmary helping the injured with the rest of the Apex survivors. He drives Milo back to the Pungo River Outpost before driving off with the rest of the crew back to Apex
Season 3
Edit
Coming Soon
Killed Victims
Edit
Numerous counts of zombies
Appearances
Edit
Season 2
Edit
Home Invasion (No Lines)
It Will Rain for a Million Years
Trains
Arriving Somewhere but not Here
Gravity Eyelids
Stars Die
Off the Map
Season 3
Edit
Similar to Sean Moreland, Jane Byron and James Walsh, Jackson is credited as "Apex Survivor 1" in his first appearance, but is listed as his real name in all subsequent appearances