Ivan Petrova is a character in Say Goodbye to America: Scatter
Ivan Petrova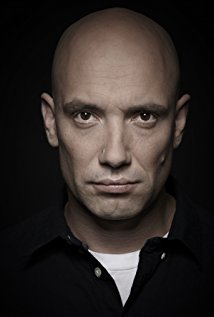 Death
Shot by Robert (Alive) Put down by Chester (Before Reanimation)
Portrayed by
Zachary Baharov
Pre-Apocalypse
Edit
Nothing is known about Ivan's life before the outbreak except that he was born in Bulgaria
Post-Apocalypse
Edit
At some point, Ivan joined the Waterfront community
Scatter Season 2
Edit
"Stars Die"
Edit
Ivan is first seen with Ronnie as they ascend the clock tower during the Midnight Rebellion. He catches Wesley, the slightly deaf bell operator, and savagely beats him to death before joining Ronnie in the clock tower. He is later seen being held captive by Milo and two other men.
"Off the Map (The Day that Never Comes)"
Edit
Ivan is seen being interrogated by Chester Navarro revealing he can not be scared into giving information. In exchange for freedom and his job back, Ivan reveals information and gives Chester suggestions on what to do next
Season 3
Edit
Ivan is seen with Barney Munson being asked about the Midnight Rebellion and if anyone outside the main area had been a part of it. After dancing around the answer, Ivan reveals Jared was a member as well
Ivan is first seen in the cafeteria with Chester, having patched things up since the former's release, although neither Reina nor Richard Harris agree. Marla eventually gives him a hard time, but Chester has her back off. Eventually, Robert causes a ruckus and fires at Chester, but Ivan instead takes the bullets. He imparts some words of wisdom to Chester before dying and being put down
Killed Victims
Edit
Numerous counts of zombies
Killed By
Edit
When Robert shoots at Chester Navarro, Ivan pushes Chester aside and takes three shots to the chest, eventually bleeding out
Chester stabs Ivan in the head after he dies before he can turn
Appearances
Edit
Season 2
Edit
Season 3
Edit
Community content is available under
CC-BY-SA
unless otherwise noted.