Hogan is a character in Say Goodbye to America: Scatter
Hogan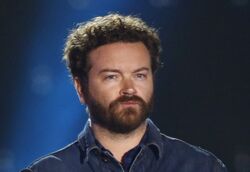 Last seen
A Plague On Your Houses
Death
Killed in a car bomb explosion
(A Plague On Your Houses)
Portrayed by
Danny Masterson
Pre-Apocalypse
Edit
Nothing is known about Hogan's life before the outbreak
Post-Apocalypse
Edit
At some point, Hogan joined the O'Connor Compound
Scatter Season 3
Edit
Hogan first appears in truck on the road with George and Julia Sabre. Although unseen, he is the one who fired the shot and killed Barney Munson, as he was the only one with a sniper rifle. He appears with the others, including Dave O'Connor and Noah, firing on Jenny Hanson, Nate Demarco and Arturo Vazquez. As the Compound group escapes, George is shot by Nate, and Hogan and another survivor help George back. While the other survivor is killed, Hogan is able to drag George back to the truck before the group drives off
Season 4
Edit
"Where We Were"
Edit
Hogan appears with Copper, Julia, Creighton Duke and Tara discussing the best part of the chicken in the mess hall. he is present when Clove runs in and tells Ned O'Connor to come to his office, but continues to enjoy his pot pie
"A Plague On Your Houses"
Edit
Hogan is set to drive Ned and a beaten Asher Praedo to Apex during the assault. When he opens the door, he sets off a car bomb meant for Ned, which kills him instantly
Killed Victims
Edit
Numerous counts of zombies
Killed By
Edit
George (indirectly caused)
Zeke (indirectly caused)
Himself (accidental)

When Hogan goes to open Ned's driver side door, he accidentally sets off an explosion from a bomb George had Zeke plant for Ned
Appearances
Edit
Season 3
Edit
Season 4
Edit
Where We Were
A Plague On Your Houses
Community content is available under
CC-BY-SA
unless otherwise noted.