Hazel is a character in Say Goodbye to America: Scatter
Hazel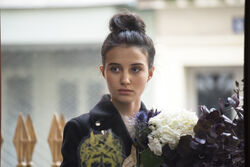 Portrayed by
Julia Telles
Pre-Apocalypse
Edit
Nothing is known about Hazel's life before the outbreak
Post-Apocalypse
Edit
At some point, Hazel joined the Soapstone Trail Military Base. She and others escape and end up in the O'Connor Compound as prisoners
Scatter Season 3
Edit
Hazel is seen in the cells eating breakfast with Eli Wilson, Basil, Cole, Kevin and Samuel Tollet
"...Hello...?"
Edit
Hazel appears with the other prisoners
Hazel appears in the cells when Eli reveals they are eating human flesh. She begins to throw up. Later, when Victor Montrose, Asher Praedo and Peanut return to release Eli, Kevin, Basil and Cole, Hazel urges the survivors to take all the prisoners
Hazel appears reading a book while waiting to leave the Compound. When they leave, she rides with Peanut, Ilene Wright, Jason Herr and Megan Shorris. When the dead attack them, Hazel is able to kill a few before hopping back into the car and driving off
Hazel appears throughout several flashbacks. First, she appears in the briefing room yelling at Gary Sanchez to knock off the talk of God because Doctor Harold Martin is currently working on a cure. Sergeant Gutierrez assigns her, Corporal Maxwell and Patrizia Torres to help the doctor. In the next flashback she appears in the laboratory after Captain Lucas McDermott kills Doctor Martin and the test subject biters, questioning why he shot them. She appears with other members planning the escape, where she joins Damian and Patrizia getting the cars prepped to leave. While the group waits for Gary, they are attacked. Hazel saves Quinn Kane from being devoured as she slaughters the dead and looks on in horror as Damian is devoured. She rides off with Patrizia and Ilene. In the final flashback, Hazel and the other escapees come across the soldiers from the O'Connor Compound.
Killed Victims
Edit
Numerous counts of zombies
Appearances
Edit
Season 3
Edit
Food
...Hello...?
Torn
Light
Tusk
Community content is available under
CC-BY-SA
unless otherwise noted.