Harris Moore is a character in Say Goodbye to America: Scatter
Harris Moore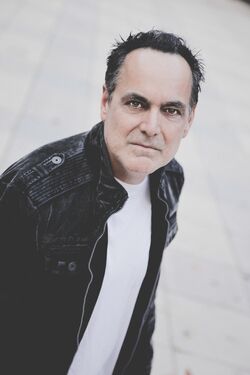 Last seen
Tusk (flashback)
Death
Shot by Rick Conrad (Alive) Shot by Evan Curtis (Before Reanimation)
Pre-Apocalypse
Edit
Nothing is known about Harris's life before the outbreak, except that he was a doctor
Post-Apocalypse
Edit
At some point, Harris became a member of Ned O'Connor's inner circle
Scatter Season 3
Edit
"Revelations"
Edit
Harris is first seen watching Octavio Arévalo and Eli Wilson through binoculars up on a hill with Ned and Dave O'Connor. He asks if they should go in full force or one car
Harris is with the O'Connor brothers when they meet with the other soldeirs: Noah, Copper, George, Clove, Noam and Samantha. All of them later stop Octavio and Eli at gunpoint, where things elevate and Harris kills Octavio
Harris, along with Clove, Samantha and Noam, attack Evan Curtis, Jasper Bernard, Rick Conrad and Harper, killing the latter two. When Harris is close enough to Evan, he is shot by a dying Rick, and eventually is put down by Evan
Harris is seen in a flashback with Ned, Noah, Samantha, George, Copper, Julia Sabre and Dave O'Connor. He appears when the survivors from the Soapstone Trail Military Base cross into their territory.
Killed Victims
Edit
Numerous counts of zombies
Killed By
Edit
Rick Conrad (Alive)

Harris is shot and killed by Rick Conrad before the former can kill Evan Curtis
Evan Curtis (Before Reanimation)

After Harris succumbs to four gunshot wounds, Evan puts him down
Appearances
Edit
Season 3
Edit
Revelations
Me?
Food
Tusk (flashback)
Community content is available under
CC-BY-SA
unless otherwise noted.