Harold Bach is a character in Say Goodbye to America: Scatter
Harold Bach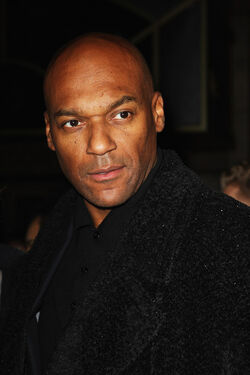 Last seen
Scatter (Alive) Alone (Flashback)
Death
Stabbed in the head by Marlton McClain
Portrayed by
Colin Salmon
Pre-Apocalypse
Edit
Nothing is known about Harold's life before the outbreak
Post-Apocalypse
Edit
At some point, Harold and Tara Friedman joined Todd Andrew's camp.
"Scatter"
Edit
Harold is seen worried about getting supplies from Todd and Luke O'Hara and about his bite he is hiding from the rest of the group. After Marlton McClain sees it, he kills Harold in the middle of the night
Season 3
Edit
Harold is seen with Tara entering Todd's camp at gunpoint; however, after a short standoff, the pair are allowed to enter the group with minimal hositlity
Killed Victims
Edit
Numerous counts of zombies
Killed By
Edit
After unintentionally revealing his bite, Harold is killed by Marlton out of fear
Appearances
Edit
Season 1
Edit
Season 3
Edit
Community content is available under
CC-BY-SA
unless otherwise noted.